The unfolding "eco-disaster" of an old landfill spilling rubbish on to West Coast beaches is a reminder of the risks still lurking in Dunedin and across Otago.
Torrential rain in Westland last week exposed an old Fox Glacier landfill, on the edge of the Fox River, and rubbish was carried away, to be deposited along a 100km stretch of previously pristine coastline.
But the West Coast was not alone, as Forest & Bird yesterday confirmed at least 100 historic rubbish dumps - and potentially hundreds more not yet recorded - faced similar threats across New Zealand.
Otago Regional Council senior environmental officer Simon Beardmore confirmed 27 closed landfills at risk from coastal erosion were recorded on the ORC's HAIL (Hazardous Activities and Industries List) register.
Most were within the Dunedin boundary, while others were in the Waitaki and Clutha districts, and all were within 200m of the coast.
The two highest-risk sites in Otago were considered to be the Beach Rd landfills, south of Oamaru, which had been exposed by coastal erosion, spilling rubbish on to the beach.
The Waitaki District Council was already working to remove waste from the sites and install a rock barrier, designed to protect the toe of the landfills, while seeking government funding for a long-term solution.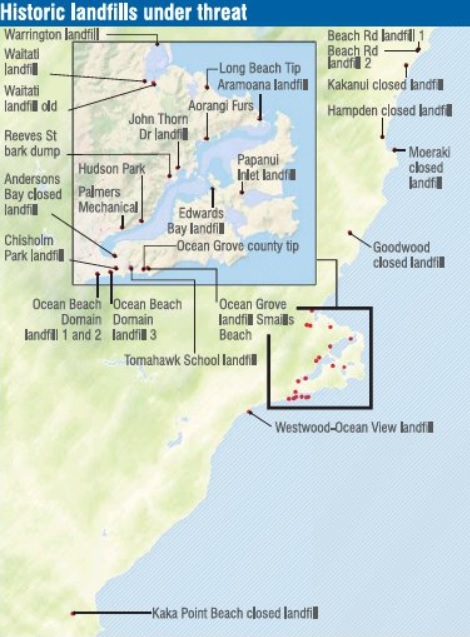 But the Dunedin City Council also had a list of 54 former dumps dating back to the early 1900s, scattered across the city, which the council was aware of.
The major area of concern was a historic dump buried under Kettle Park, either side of Moana Rua Rd.
It was that landfill, coupled with events on the West Coast, which Dunedin City Council infrastructure committee chairwoman Cr Kate Wilson said yesterday was making her "very nervous".
The dump had been capped in 1940s and largely forgotten, until significant coastal erosion in 2007 exposed the toe of the landfill.
Tests subsequently confirmed the landfill contained "significant quantities" of trade waste materials, as well as household rubbish, while sand dunes at nearby Middle Beach had been contaminated by traces of arsenic, asbestos and other industrial chemicals.
The council had since taken steps, including a new Ocean Beach management plan, to protect the landfill from further erosion and plan options for any future intervention.
Those options ranged from building a buried backstop wall to protect the landfill, which in 2012 was estimated to cost $10million, to a wider "managed retreat", including a clean-up of the landfill, which it was estimated would cost $16million.
Cr Wilson said yesterday the management plan remained operative and there were "a lot of eyes" on the issue within the council.
There had been no change at the site since 2010, but the landfill could be affected in future by a "very strong" storm surge or tsunami, as had happened before, staff said.
Cr Wilson said it was too early to consider a clean-up of the site, which would be "fraught" anyway, in such a highly populated area, but the issues were "at the forefront of our thinking".
"I think we need to be vigilant."
But the recorded landfill sites were still only part of the picture, as the location of old "farm fills" - permitted activities under the Otago Regional Council's regional waste plan - were not recorded.
DCC waste and environmental solutions group manager Chris Henderson said such sites were meant for cleanfill and green waste, rather than hazardous or household material, but were not monitored.
Depending on where they were, and what had been dumped in them, they could be a "ticking timebomb".
"We don't know where they are, so we can't assess the risk. We don't know exactly where they all are or what's in them."
Mr Beardmore said the ORC remained confident all landfills it was monitoring remained "appropriately contained at present", but events on the West Coast had "reiterated the urgency of the work we do with territorial authorities to manage historic landfill sites".
- A huge clean-up was continuing on the West Coast, targeting the Saltwater, Fox River, Waikukupa and Franz coastal areas, as well as the Waiho to Five Mile Lagoon area.
Rubbish was still washing up, but the original dump site alongside the Fox River would be left to experts, as Forest & Bird yesterday asked the Government to step in.
"This is potentially the biggest coastal eco-disaster since the Rena oil spill, and Government must not leave the Westland District Council alone to manage an environmental crisis of this scale," Forest & Bird chief executive Kevin Hague said.