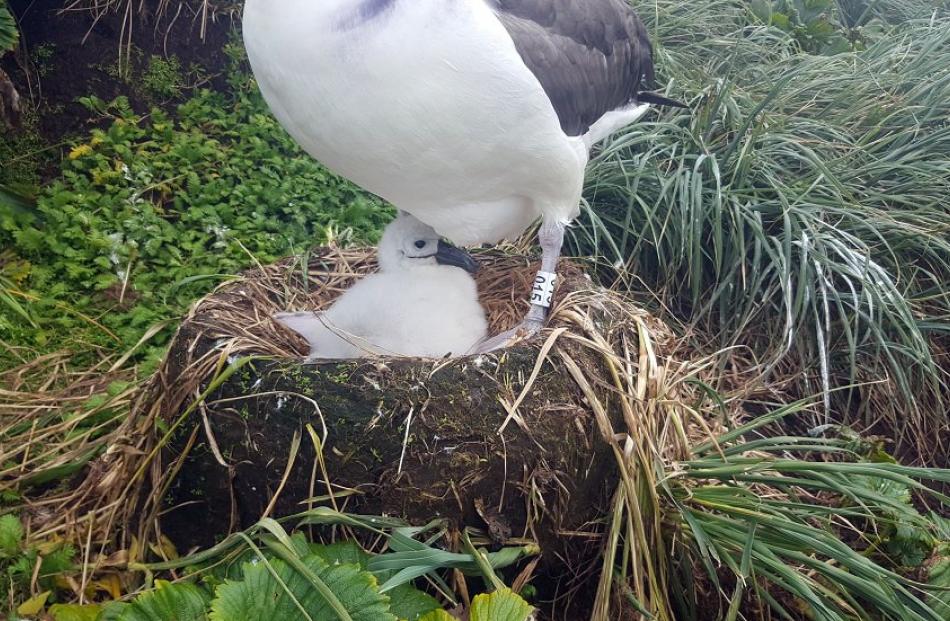 If an albatross with a purple dot on its head catches your eye, you are not going mad.
Two hundred white-capped albatross on the Auckland Islands have been dotted with purple stock markings and banded in an attempt to gather more information on the survival rates of the mid-size albatross, often known as a mollymawk.
Conservation researcher Graham Parker, of Dunedin, said he and his wife Kalinka Rexer-Huber had just returned from a two-month monitoring expedition conducting seabird research on three species of albatrosses and two petrel species in the Auckland Islands.
The Department of Conservation and fishing industries-funded project to the islands 500km south of Bluff was a bit like a ''wintry camping trip''.
''There was very challenging weather.
''It was very cold, very mountainous and very windy.''
The critical condition of albatross species meant braving such conditions was important, he said.
''Albatross are the most endangered family of birds in the world and albatross are susceptible to getting killed in commercial fishing.''
However, the fact the Parker Conservation and Niwa project was partially funded by the fishing industry was an indication of the industry's desire to understand the impacts of incidental bycatch of seabirds in commercial fisheries, Mr Parker said.
The project had been going for three years, but it was too early to tell from gathered data how many white-capped albatross there were.
Helicopter counts conducted each year for eight years on Disappointment Island in the Auckland Islands, showed about 90,000 pairs on the 380ha island, he said.
Banding and marking the birds was not without its challenges.
''They are a big bird, and they have a snappity big beak on them, so you have to be careful not to get bitten.''
Monitoring the birds was also made difficult by the fact the research focused on breeding birds, and the albatrosses were either incubating or nursing young chicks at the time of the project, he said.
Last year a white-capped albatross with a blue marking on its head sparked conversation when it was spotted in Karitane, near Dunedin.
The bird was stock-marked by the pair during their study of seabird species caught as by-catch in commercial fisheries in New Zealand.
Small tracking devices had been put on 40 of the almost 400 leg-banded albatross, however the pair hoped to hear from anyone in Otago or Southland who saw an albatross with purple paint on its head.
Notifications of sightings could be made at: www.parkerconservation.
co.nz