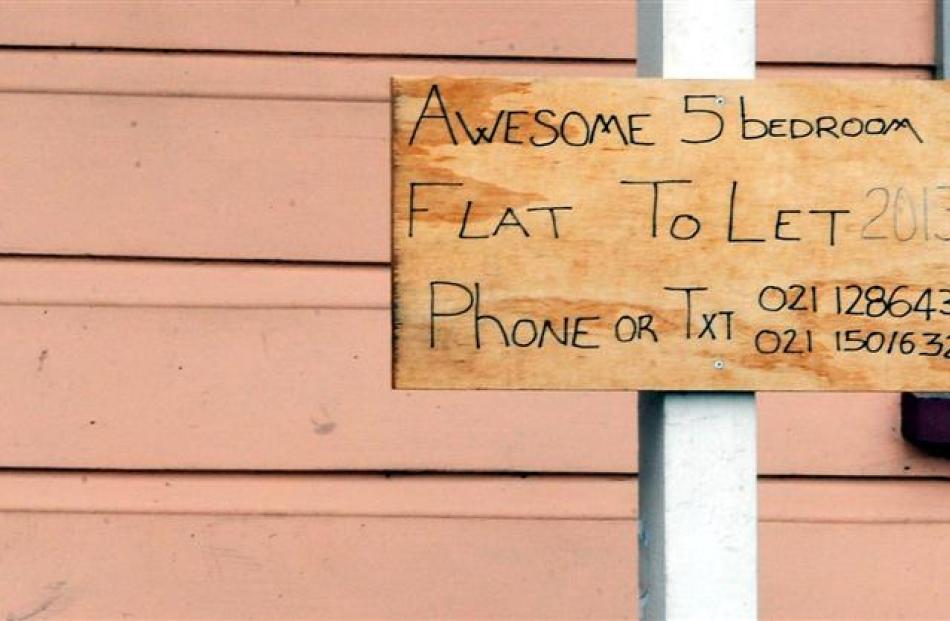 An increasing number of students appear to be waiting for the start of the academic year to find accommodation, University of Otago director of accommodation services James Lindsay says.
Mr Lindsay said more flats were available to students than this time last year.
This was probably because more students were waiting until they returned to Dunedin to find accommodation, he said.
''The volume of inquiries we have received about our office's operating hours next month suggest many older students are increasingly prepared to wait before they seek a flat.''
Otago University Students' Association president Francisco Hernandez said the change was a sign its campaigning to stop students signing up to flats too early was having an effect.
''Students should keep in mind that there are more flats than students on the market and to take their time in choosing good-quality flats.
''While slightly lower enrolments may be a factor, OUSA believes our work focusing on flatting is paying off,'' Mr Hernandez said.
Edinburgh Realty general manager Mark Miller said the student flat market was ''definitely getting tougher''.
However, because the company had been more ''proactive'' in trying to fill the flats it managed, it remained on track with previous years.
The fact its landlords had taken on board advice to improve student flats had also helped, he said.
Student flat landlord Lyndon Clayton said it was important flat owners kept their properties up to scratch.
''If they are in good order and reasonably priced, then they always get snapped up,'' Mr Clayton said.
He had never had a problem renting out his flats.
Mr Lindsay said demand for places at residential colleges was at a comparable level to the corresponding time last year and they were all full.
At November's university council meeting, vice-chancellor Prof Harlene Hayne and chancellor John Ward both suggested positive interest in residential colleges as a reason to be hopeful domestic student numbers would improve this year.