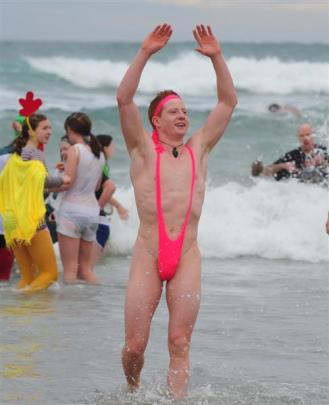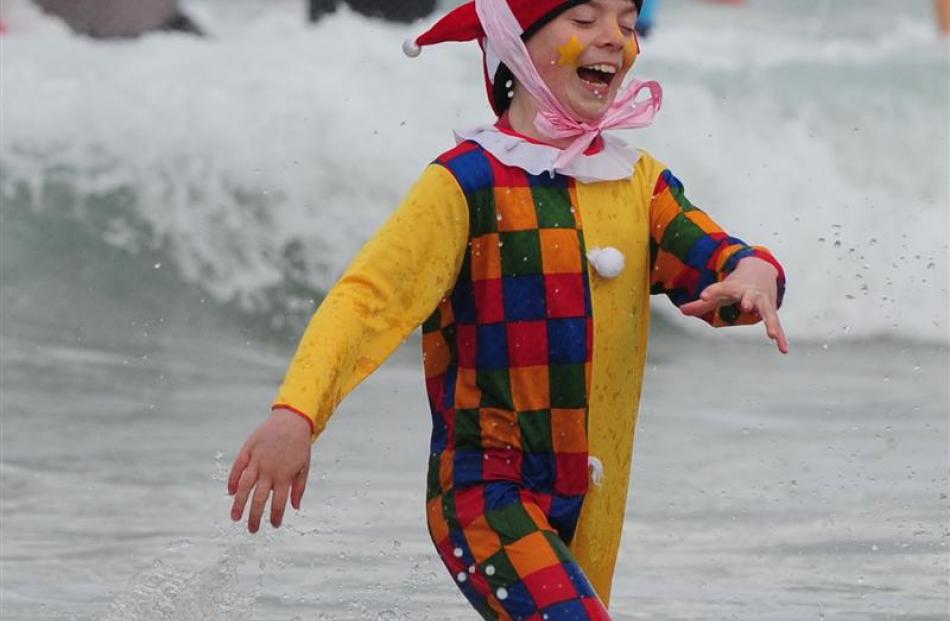 A hot pink man-kini stole the show at this year's Dunedin polar plunge.
It is doubtful the slip of fabric, worn proudly by Ben Thompson, offered much protection from the 11degC waters off St Clair beach in Dunedin yesterday, but it was certainly a hit with the ladies.
After the annual plunge for charity, the 20-year-old student took a while to get back to his clothes, as people - mostly women - stopped him for photos every few metres.
He did not have much to say about the attention he received, but was not shocked when he hit the water.
''It was balmy. Just another typical Dunedin winter's day.''
Mr Thompson was one of about 200 people dressed in anything from Santa suits to top hats and tails who took part in the annual winter event to raise money for the St Clair Surf Life Saving Club.
One of the longest stays in the water was claimed by 8-year-old Tom Sharp, who held out against the cold for just over 10 minutes.
Organisers deemed the event a success, with warmer air temperatures than usual attracting about 1000 spectators.
Mr Thompson won the prize for best costume. He said a friend made the man-kini - similar to that seen in the hit 2007 movie Borat - on Saturday.
He chose the style because he ''had no shame'', he said.