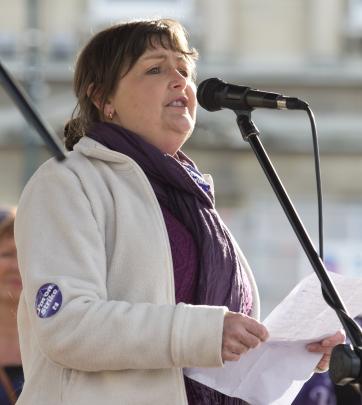 New Zealand Nurses Organisation members walked off the job today after talks to settle their collective wage agreement collapsed.
About 400 nurses and supporters marched down George St this morning at 11am as an eight-hour strike began.
The Southern District Health Board had expected that most of its nurses would not be working.
The nurses walked out of the Dunedin Hospital this morning and gathered outside the University of Otago Dental School before marching to the Octagon for the rally.
Nurses want a higher pay increase than that offered by district health boards and improvements to safe staffing levels.
Many of their colleagues remained at work, as nurses are obliged to maintain life preserving services if they strike.
Emergency departments remained open at Dunedin and Southland hospitals for urgent cases. 
The SDHB postponed planned surgery and appointments both for the days before the eight-hour strike and on the day itself.
No figure was available for how many patients would have their care disrupted, but when NZNO nurses last went on strike, in 2018, 450 patients were affected in what was a 24-hour stop-work.
SDHB chief executive Chris Fleming said hospitals continued to provide essential and urgent services, including emergency departments, acute surgery, intensive care, maternity services and renal dialysis.
"In addition to excellent contingency planning before the strike, our staff have done an outstanding job today. The commitment to working together, supporting patients, their families and each other has helped to minimise the disruption as much as possible," he said.
"We greatly appreciate the understanding of patients and whānau during this time especially those who have had planned procedures and appointments postponed.
"I would also like to extend my thanks to Southern DHB staff and our colleagues in general practice and other health services in the community who provided additional support and care as it has been required today."
Yesterday Prime Minister Jacinda Ardern said the Government had made a pay offer which would substantially raise the pay of the lowest-paid nurses.
"At the moment they are asking for 17% and we are just not able to fund that at this point in time."
The NZNO argues that current pay rates do not attract people into the nursing profession or help retain nurses, and that better pay and conditions in Australia will result in nurses leaving this country now the transtasman bubble is open.
A Dunedin NZNO member striking today said as a young nurse she would be heading to Australia if conditions did not improve.
A colleague, emergency department nurse Anne Daniels, said hospitals already scrambled every day to find enough nurses to cover each shift.
"New Zealand nurses are one of the worst paid in First World countries.
"We are highly qualified and highly skilled and our entire team, including healthcare assistants, new graduates, midwives, practitioners and senior nurses, deserve better."
The strike was held from 11am-7pm.