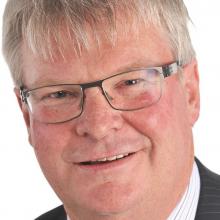 The Otago Regional Council has appealed the decision to allow a developer to build two units on the site of an uninhabitable flood-damaged South Dunedin house.
Laurence Prattley applied to the Dunedin City Council to demolish the existing house on 38 Richmond St and build two units in its place.
The resource consent application was opposed by a council senior planner, but was granted by the council hearings committee last month following a hearing in July.
Dunedin planner Conrad Anderson, who argued the case for the development at July's hearing, said he and Mr Prattley were surprised and concerned by the ORC's decision to appeal.
"It's unclear on what terms the ORC would accept this development in South Dunedin," he said.
"The appeal from the ORC doesn't align with what the ORC are saying in regards to South Dunedin.
"They are saying on the record that people shouldn't overreact [in regards to flooding and groundwater issues] and they are seeking community dialogue."
ORC chief executive Peter Bodeker said the council lodged an appeal with the Environment Court last Friday because of issues faced by the property and its proposed development.
"Reasons for the appeal include that the land is subject to natural hazards, sea level rise, and liquefaction; that the consent conditions neither adequately address concerns raised by ORC or are practical or enforceable; and that the proposed activity is contrary to relevant regulatory documents," he said.
"Because the matter is before the court, ORC is unable to comment further."
An Environment Court spokeswoman said no other appeals had been received in relation to the proposal.
However, the appeal period did not close until next month.
No timeline had been established for a hearing of the appeal and it was likely the parties would be sent "straight to mediation".
Mr Anderson said he was unaware of  what issues the ORC had with the proposal.
He remained open to mediation, but was concerned about what concessions the ORC sought.
"The hearings committee thought the natural hazards had been mitigated and the hearings committee had the benefit of specialist engineering input," he said.
"The hearings committee at the Dunedin City Council made the decision and it's a very robust decision, so reluctantly we will participate in mediation as a next step.
"We aren't quite sure what compromise is required.
"This application was publicly notified and the community had no concerns. None ofthe community made a submission."
Appeals close on October 10.