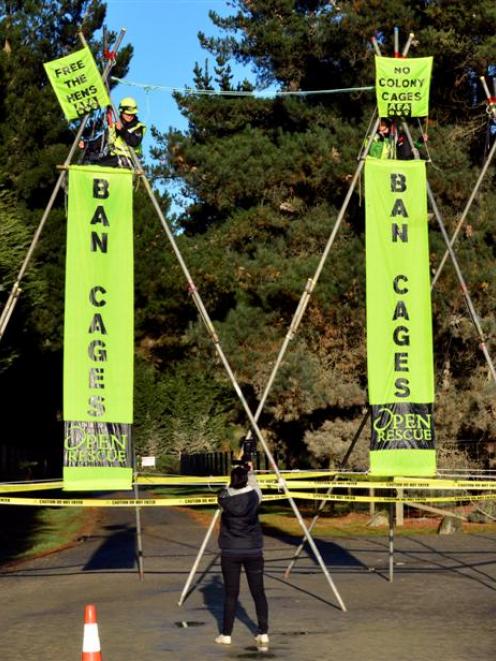 Three women from Auckland have been arrested after police intervened to end a protest which was blocking access to New Zealand's biggest battery hen farm at Waikouaiti.
The protesters were part of an original group of 15 protesting about animal welfare issues, which had been blocking road access to the entrance since to Mainland Poultry's Zeagold Foods farm early this morning.

The protesters had used a 7m-high tripod steel-framed scaffolding structure to block the main access road to the property. Two women chained themselves to it and another chained herself to the gate of the property.
Police said in a statement the protestors agreed that they would come down if police helped with cutting the chains.
After the chains were cut at 1.30pm, police used a cherry picker to help the two protesters down and the structure was dismantled.
They were arrested, as was the third woman who had been chained to a gate. All three, aged 22, 33, and 43, are from Auckland and face charges of obstructing a public way. They have been bailed to appear in court at a later date.
Earlier report
The trio blocked the main entrance to the Waikouaiti business and several vehicles had to turn around, said protester and Coalition to End Factory Farming spokeswoman Deidre Sims.
Speaking from a tripod, Ms Sims said she was "willing to put my life on the line" to bring an end to cages for battery hens.
"We have placed ourselves in this potentially very dangerous position and are prepared to risk our lives if it helps to prohibit the use of all cruel cage systems in New Zealand. This should serve as a strong warning to Mainland Poultry that we are escalating our efforts and remind consumers not to buy Farmer Brown eggs, which are Mainland's cage-produced range," she said.
Workers on foot got into the building using another entrance, said Mainland Poultry general manager of sales and marketing Hamish Sutherland, who described the protest as a "stunt".
No vehicles could access to the operation and if feed vehicles couldn't get in there would be "a whole lot of hungry hens" this afternoon, he said.
Mainland Poultry has been trialling 'colony cages' to replace existing battery cages following a review of the Code of Welfare for Layer Hens but Ms Sims said that wasn't enough.
"A cage is still a cage. it's still factory farming and it's not good enough."
Mr Sutherland said the colony cages had been trialled in the UK and EU and were a positive step forward for animal welfare, as they were 30 per cent larger and had perch and nesting areas and a scratch pad.
Free-range only eggs was not practical, he said.
"If you remove this cheaper production method out of the system then you're potentially going to price eggs out of the diet of many New Zealanders."
Two police officers were at the scene and they hoped to reach a peaceful resolution, said Sergeant Damion Rangieutia.
Last year activist Carl Scott imprisoned himself in a cage for a month near Mainland Poutry to protest the conditions of battery hens and to advocate outdoor free-range hens.