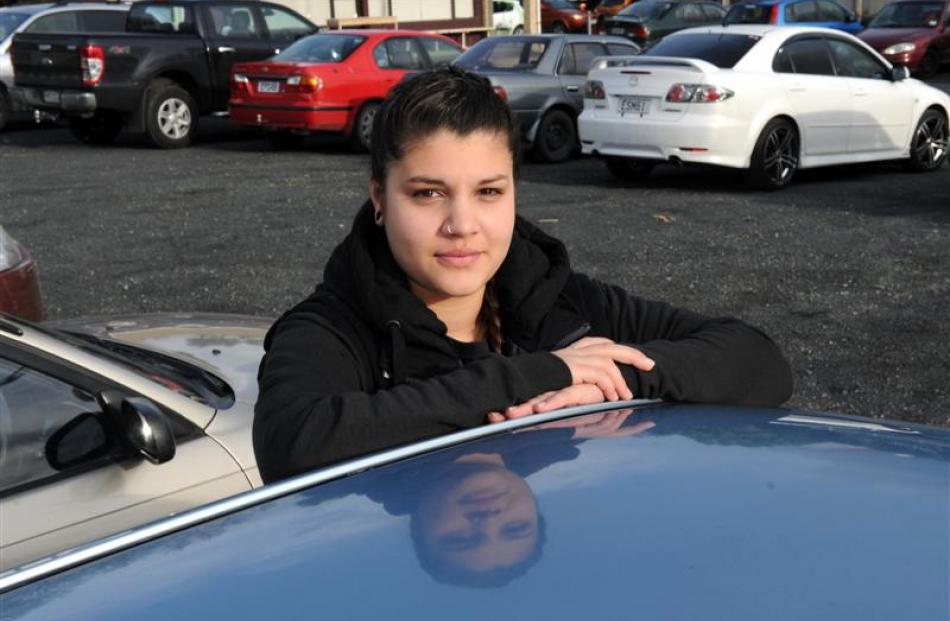 Finding a park close to Dunedin's College of Education could become much harder, as more than 200 car parks come under threat from developments at Logan Park.
A plan to increase the capacity of the University Oval could put up to about 90 two-hour parking spaces in Logan Park Dr under threat, and a car park on council-owned land in Union St East would be lost if a planned $20 million Ngai Tahu Property-Otago Polytechnic residential hall goes ahead.
People parking in both spots were concerned yesterday those losses would make it even tougher to find a park in an already busy area.
Soon-to-graduate Otago Polytechnic student Adam Bazley said the parking was ''limited as it is'' and the changes would make ''a lot worse''.
''Unless you are here at 7.30 in the morning, you don't really get a park,'' he said.
Like many other students, he had to change parks every two hours so he did not get a ticket.
Fellow Otago Polytechnic students Sam Sewpersad and Jodine Keeley were also concerned.
Ms Sewpersad said being able to park all day at the Union St East car park meant she avoided getting fines.
If the parks were not there, she would have to park further away from the campus. Ms Keeley, who gets up at 6.30am to travel from Timaru to Dunedin once a week, would have to leave earlier ''just to get a good park''.
''If they are going to get rid of it, they need to [build another car park],'' she said.
Council parks manager Lisa Wheeler said the project to expand the University Oval was still at a very early stage.
The council hoped to meet Otago Cricket and the university in the next month to go over Otago Cricket's proposal in more detail and no application to stop the road would be made until after that.
She said the proposal, as it stood, would divide Logan Park Dr in two and the embankment would be placed on top of the part of the drive bordering the ground at present.
This meant a small number of parks would need to be removed outside the oval but parks might also have to be removed along the rest of the drive, because it would have to become two-way at either end.
''It's not just a straightforward case of saying 'let's put this here, and it'll be OK'. It does have a huge impact on the rest of the area and how we get people around it, especially during events.''
The proposal could also affect a request from Cr Hilary Calvert to have the drive renamed Brendon McCullum Dr, in honour of the South Dunedin-born-and-bred Black Caps captain.
Council information support officer Bruce Hall said any possible renaming was on hold until it was clear what was happening with the Otago Cricket proposal.
Senior traffic engineer Ron Minnema said his team provided some advice about future traffic, pedestrian and parking needs to other council staff planning for the future use of Logan Park.
The advice was likely to evolve but had figured in potential changes to Logan Park Dr, should the University Oval be expanded.
The impact of the loss of parking should the residential hall development go ahead had not been considered at this stage, but would be, should it eventuate.
Otago Cricket Association chief executive Ross Dykes said it was still about two months away from making a formal approach to council over its plan to install lighting and increase University Oval's capacity by 2000.
It had not given ''any thought to the fact that there might be a loss of parking'', he said.
A decision on the Ngai Tahu Property-Otago Polytechnic residential hall development was yet to be made.
The council and polytechnic have confirmed discussions are ongoing over the sale of the land.
Otago Polytechnic director of communications Mike Waddell stressed the car park on the site was ''only temporary'' while decisions were made on its future.
University of Otago services director Barry MacKay said the university would make a submission to the council on the issue of parking in the College of Education area.
''The university will continue to work closely with the council on the matter of management of car parking in the campus area as part of the review of the Dunedin City district plan,'' he said.