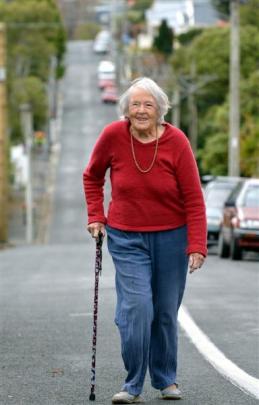 Dawn Ibbotson (99) reluctantly gave up driving about six years ago because she knew her age potentially made her a danger to herself and others.
It was a decision the Dunedin woman made herself, but it came after a discussion with her daughter, who urged her to stop driving for safety reasons.
She was still enjoying driving at the time, even sporting the number plate ''GETNON'', and felt driving gave her a ''great deal of freedom''.
Asked at what stage she thought people should give up driving, Mrs Ibbotson said it would be different times for different people.
''You are giving up a real privilege, but there is a time for all things.''
Still active and keen to get out of the house, she made good use of companion driving service Driving Miss Daisy, for which she also qualified for a discount because she required a stick to walk.
She had been driving since the 1930s. Giving up had been a wrench because, at 93, she still felt confident.
''I think I was still driving well, but I saw the potential ... I think I could have been a risk to other people, because over [age] 90, your reactions are slower.
''That's just how it is. There's not much you can do about that.''