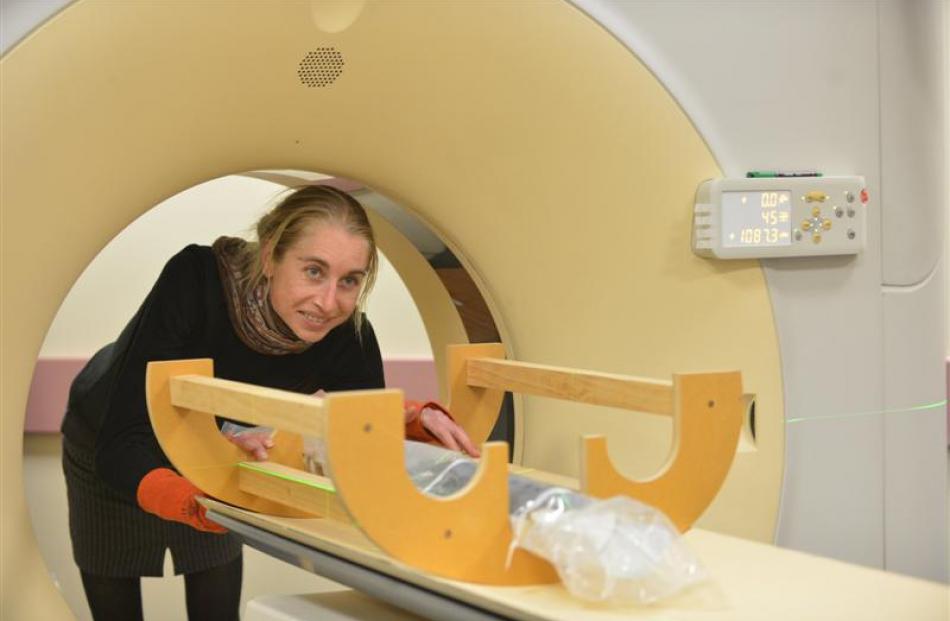 Otago has a rich history of establishing firsts, leading the way in many fields. University of Otago researchers are attracting international attention, with some granted millions of dollars for cutting-edge projects. So what are they up to? Reporter John Gibb does his own research on the researchers.
University of Otago geologist Dr Virginia Toy is keen to shed new light on the likely effects of a predicted huge earthquake on the Southern Alps fault system.
Dr Toy, a senior lecturer in structural geology, is one of three co-leaders in a major international scientific venture, the Deep Fault Drilling Project, at the Southern Alps.
This innovative project aims to drill 1.3km into the Alpine Fault, on the West Coast, partly to learn more about when the predicted devastating magnitude 8 quake - sometimes known as the ''Big One'' - is coming.
''The Alpine Fault is late in its earthquake cycle,'' Dr Toy says.
''We are quite likely to experience this earthquake in our lifetimes.''
Scientists believe the Alpine Fault last ruptured in 1717 in a huge earthquake which generated about 8m of sideways movement, and uplifted the land by up to 2m along the fault.
Researchers believe such a major quake is likely to recur about every 330 years.
The next could happen by the middle of this century.
''If the Alpine Fault fails it will probably shake both Christchurch and Dunedin as much as the Christchurch earthquakes did,'' Dr Toy says.
But the ''likely effects''of a huge quake remain unclear, including if it will generate ''high peak ground accelerations'' as in the recent big Christchurch quakes.
''My research aims to help us make much more realistic predictions of the likely ground-shaking hazard.''
Gaining a better understanding of such effects is ''really important if we are to properly design our buildings and infrastructure to accommodate the next event''.
And in striving to understand such effects, Dr Toy is thinking not only of the magnitude 6.3 quake which killed 185 people in Christchurch and heavily damaged thousands of buildings, on February 22, 2011.
She is also drawing on geological insights gleaned from an earlier international drilling project undertaken in a deep-sea trench area off the Japanese coast in 2012.
That was when she spent two months aboard the Japanese research vessel Chikyu, helping undertake a record-breaking international drilling initiative, in the aftermath of a massive 50m movement of a Japanese subduction zone fault.
That movement, linked to a magnitude 9 quake, generated a tsunami that killed more than 20,000 Japanese people in March 2011.
At the drilling site, about 200km east of the Japanese coast, in northeast Honshu, researchers and technicians drilled to about 7740m below sea level and about 850m into underlying rock in a deep-sea trench area, about 6910m deep.
Extensive research showed the composition of the fault plane in the Japanese event was ''very, very rich in a clay mineral called smectite''.
''The presence of this clay mineral allowed the Japanese fault to be really weak [slippery] during the earthquake,'' she said.
''This weakness allowed the huge displacement that occurred, generating the much larger than expected earthquake.
''We're really keen to analyse more Alpine Fault material from this next phase of drilling to see if it is compositionally similar.''
Her fellow Alpine drilling project leaders are Rupert Sutherland, of GNS Science, and Dr John Townend, of Victoria University of Wellington.
And the project is backed by about $1 million from the New Zealand Marsden Fund, and significant offshore funding.
Otago geology staff, guided by Dr Toy, will be responsible for rock samples recovered from the borehole.
They will analyse the rock, including by feeding it through a CT scanner at Dunedin Hospital's oncology department.
''These images will reveal the internal structure of the core, which results from fracturing associated with the passage of seismic waves,'' she says.
Detailed analysis of the microstructure of such rock core material can reveal big insights about how massive movements can occur in an earthquake.
Born on Auckland's North Shore, Dr Toy mostly aspired to be ''a scientist, and engineer, or an architect'', when growing up.
''I have a physics and maths background, but have been interested in geology since accompanying my stonemason father to look for building stones in Auckland quarries as a child.
''I also love the outdoors. Geology allows me to combine research into complex physical processes with time out in the field.''
And how does she relax?
''I love sailing, sewing, reading, and getting out into New Zealand's beautiful natural environment.
''I really love cycling, both for exercise but also for commuting.''
---
THE CHALLENGE
Learning more about a predicted huge Alpine Fault earthquake before it strikes
What is your research about?
''I investigate the mechanics of faults and shearzones in the Earth's lithosphere, the crust and upper mantle, and in this case the Alpine Fault.''
Why is it important?
''The Alpine Fault is late in its earthquake cycle. It has the highest statistical probability of rupture in the near future of any known fault in New Zealand.''
Most interesting aspect of your research?
''I'm really excited about recent developments in understanding of the mechanics of fault zones that cause large ground displacements, like the one that generated the huge tsunami off Sendai, Japan, in 2011.''
In what way is it unique or distinctive?
''I focus on the microstructural record of earthquake processes and look at things at really small scale - atomic level, using extremely high resolution electron microscopy - that have implications for really large-scale tectonics.''
Deep Fault Drilling Project - Alpine Fault
Researchers elsewhere in the world have previously drilled into plate boundary faults after large earthquakes, but the South Island project will be one of the first attempts to probe a major fault before it ruptures.
Location and timing
The New Zealand-led international science team plans to drill a single deep borehole into the Alpine Fault near Whataroa, north of Franz Josef on the West Coast, starting in October.
What is the Alpine Fault?
It forms part of the boundary between the Australian and Pacific tectonic plates in the South Island. It lies near the base of the western range-front of the Southern Alps and runs about 500km between Milford Sound and Marlborough.
---
Snapshot
Name: Virginia Toy (34)
Occupation: University of Otago senior lecturer in structural geology
Qualifications: PhD in geology.
Where did you train: Earlier qualifications from Auckland University, Australian National University; PhD in geology, Otago University (2008).
Work history: Engineering geologist at two Auckland firms, postdoctoral researcher at two US universities, and lecturing at Otago University.
Proudest: ''Being a principal investigator of this extremely scientifically important project.''
---