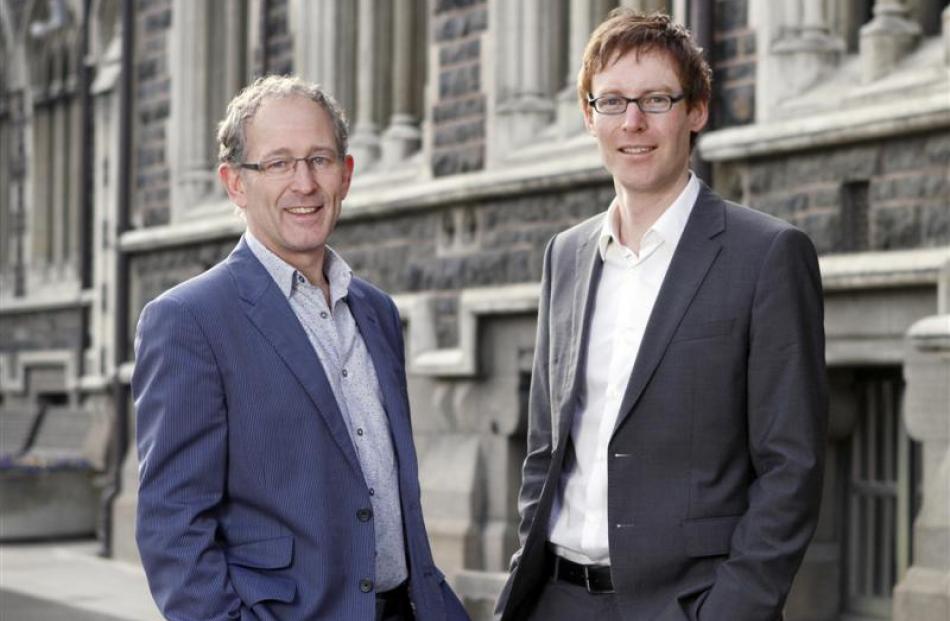 wo University of Otago academics, Associate Prof Haxby Abbott and Dr Peter Fineran, have been honoured by the university for their research.
Prof Abbott, of surgical sciences, and Dr Peter Fineran, of microbiology and immunology, are co-recipients of the university's Carl Smith Medal and Rowheath Trust Award, which recognise research excellence by early career staff.
Each researcher also receives a $5000 grant for scholarly development.
Announcing the honours, university deputy vice-chancellor Prof Richard Blaikie praised the ''exceptional records'' of the two academics, including in their publications in international journals and ''translating their work into new scientific or clinical practices''. Prof Abbott's research focuses on the management of musculoskeletal conditions, and his findings have influenced international clinical practice guidelines.
He said he was ''hugely grateful'' for the guidance of ''wonderful mentors'', and for the many PhD students and clinicians who had also contributed significantly to the research.
He is principal investigator of the management of osteoarthritis research programme at the Centre for Musculoskeletal Outcomes Research. He is keen to help reduce New Zealand's huge joint-related burden of osteoarthritis.
This condition cost an estimated $2 billion a year in New Zealand, in wider social and economic terms, including more than $550 million in treatment-related costs, such as medication and surgery, he said.
Prof Abbott helped establish a successful joint clinic on a trial basis at Dunedin Hospital in 2012.
Dr Fineran had earned a growing international reputation through his research, which involved using molecular genetics and biochemistry to investigate how bacteria resisted viruses and plasmids, university officials said.
Plasmids are small DNA molecules that are physically separate from chromosomal DNA within a cell.
Dr Fineran said he was delighted to receive the honour and to share it with Prof Abbott. Both worked collaboratively in their respective fields, and the shared award also reflected the ''efforts of many students, post-docs and technicians''.
Dr Fineran is a Rutherford Discovery Fellow in molecular microbiology and has won several other awards.