Dunedin's one-way cycle lane network and subsequent changes to traffic and parking are things residents will have to adapt to, officials say.
The NZ Transport Agency and Dunedin City Council project was officially opened yesterday, on budget at $8million.
The project has developed separated lanes through central and North Dunedin, and followed cyclist fatalities on the one-way system in 1998, 2005, 2011 and 2012.
A count of cyclists on the lanes this week showed they are being used, but NZTA regional relationships director Jim Harland said he would like to see more.
Dunedin North Labour MP David Clark cut a ribbon outside the Toitu Otago Settlers Museum late yesterday morning.

Dr Clark said anyone who cycled regularly had their own stories of "dices with death''.
"We do need to do better as a country at making walking, cycling, and other environmentally-friendly modes of transport safer,'' he told a gathering to mark the occasion.
"Changes being made on our one-way system will make our system safer.''
Dr Clark noted the concrete islands separating cyclists on the system, which carried about 25,000 vehicles a day, were movable, and it could be modified when the new Dunedin Hospital was built.
Dunedin deputy mayor Chris Staynes said whenever there was a perception the council was taking something away from motorists "we all get bombarded by unhappy people''.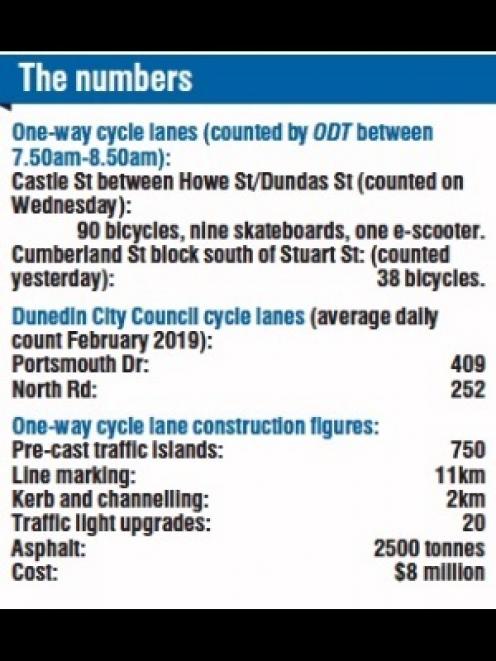 He said people would have to adapt.
"I think we have to make these moves as a city.
"We want to encourage more people to cycle as an everyday transport option.''
More people on bikes meant less congestion, reduced emissions and improved health and safety.
The council was working to offset parking loss that resulted from the cycle lanes.
This week the Otago Daily Times counted 90 cyclists using the lane running south on Castle near Dundas St in one hour between 7.50am and 8.50am, and 38 in the same time period travelling north towards Stuart St on Cumberland St.
Mr Harland described that as a good start, but hoped it would get "a lot higher''.
The cycle lanes had only been built recently, and he hoped the numbers would increase.
On the backlash from drivers on the issue, he said adapting to the new situation, and having to look out for other modes of transport, would also take time.
NZTA projects team manager Simon Underwood said work still to come included installing Barnes dance crossings at the two Albany St intersections, and pinning and grouting some of the concrete traffic separators.