A Caversham rest home will require "significant repairs" after yesterday's deluge as Dunedin moves into recovery mode.
Dunedin City Council recovery manager Simon Pickford said the Dunedin emergency operations centre would close this afternoon and the focus was now on checking properties affected by floodwaters and cleaning up roads.
Over 108mm of rain fell in the city yesterday, including about 56mm between noon and 4pm.  Only light drizzle has fallen overnight and floodwaters have now largely receded. 
Radius Fulton rest home in Caversham would require significant repairs and its residents had been relocated, Mr Pickford said.
​
Council building inspection and environmental health teams had visited 11 properties where assistance with flooding issues had been requested and more visits would be done this afternoon
"Very few [visited so far] had problems with floodwaters entering living spaces."
Anyone who had floodwaters enter their living areas is encouraged to call the DCC on 03 477 4000 or register at www.dunedin.govt.nz/adverse-weather so assistance could be provided as necessary.
The Mayoral Relief Fund had been re-launched today to help any residents badly affected by yesterday's flooding.
The fund was targeted at people who cannot receive assistance through other avenues, such as insurance and the criteria could be found at the website mentioned above.
The  state of emergency declared in the city was lifted this morning as floodwaters receded.
Civil Defence made the announcement just before 10am and said the Emergency Operations Centre would remain active as the recovery from the flooding got under way
Mayor Dave Cull praised the way people worked together to get through yesterday's event.
"It was great to see the whole community – residents, businesses, emergency services, health, DCC staff and contractors and many others – working together to get through yesterday's flooding," he said
"The early and proactive preparations by all involved ensured that the community coped as well as it possibly could with the downpour."
DCC Chief Executive Sue Bidrose earlier saod they were aware of 13 properties, most of them in South Dunedin, which had floodwater enter living areas.
''Our building inspection and environmental health teams are out this morning assessing the affected homes.''
"We urge anyone who had floodwater enter their living areas and hasn't let us know, to call us on 03 477 4000 or register on the DCC website at www.dunedin.govt.nz/adverse-weather so we can provide assistance as needed," Dr Bidrose said.
Earlier story
Torrential rain overwhelmed the city's stormwater system yesterday, flooding parts of Mosgiel and South Dunedin and sparking evacuations and road closures.
The Dunedin City Council advises that most roads are open today, although there are a few closures still in place. 
See DCC road closures here
History repeated itself yesterday for many residents, who faced similar flooding in 2015 and wake this morning facing  another clean-up. A state of emergency was declared at 2.20pm. Dunedin  had received 18mm of rain an hour in the previous two hours.
"That is more than our system is designed to cope with, even though it has operated exactly how it is intended to," Mayor Dave Cull said.
Overall, 108.4mm of rain fell up until 9pm yesterday.
By comparison, in 2015 160.2mm fell in one day, and during last year's July floods 94mm of rain soaked Dunedin.
Emergency services, which had been stretched  on Wednesday to deal with a large fire in Burnside, were flat out once more, with multiple calls  to deal with weather-related mayhem.
Residents at  Radius Fulton Care Centre, in South Dunedin,  suffered badly in the 2015 floods and were  again evacuated yesterday.
Managing director Brien Cree said the Southern District Health Board,  Civil Defence, emergency services and family members were helping move the elderly residents to safer premises.
He did not know when residents would be able to return.
A spokeswoman said plans had been  put in place after 2015 for a similar incident, and the relocation of the 89 residents was going smoothly.
There were no reports of flood-related injuries.
The Dunedin City Council opened two evacuation centres — at Caledonian Gym and at Mosgiel's Memorial Park hall — but they were closed at 7pm due to lack of demand.
However, the state of emergency remained in place overnight and would be reviewed this morning.
South Dunedin's stormwater system was unable to cope with the 2015 deluge, and struggled with the amount of rain which fell in a short time yesterday.
"It was just the sheer volume of rain in such a short period of time meant that some of the groundwater entered the wastewater system, and that's what caused the problem," Civil Defence controller Leanne Mash said.
Wastewater and floodwater mingled in Surrey St, Forbury, and more South Dunedin streets were expected to be affected.
"We are treating all floodwater in South Dunedin as if it were potentially contaminated and it should be avoided," Ms Mash said.
She did not know how many homes and businesses were affected by flooding in South Dunedin. Earlier estimates were 800 premises might be at risk.
"Right now we are working through all the reports that have come through police or to our own call centres and combining them together into an action plan.
"We are also asking people to go on line and fill out a form if they have had floodwater through their home or business so we can get them into the system and inspect their property."
Various roads around Dunedin would remain closed until they  were clear of water, and Surrey St and Hillside Rd  were  closed due to concerns about wastewater flooding.
Coastal settlements avoided major damage, although Aramoana Domain flooded and rock walls collapsed near Waipuna Bay.
The road to Aramoana was closed last night due to debris.
Authorities had feared a predicted king high tide  about 5pm would cause serious issues, especially on the West Harbour and Otago Peninsula roads.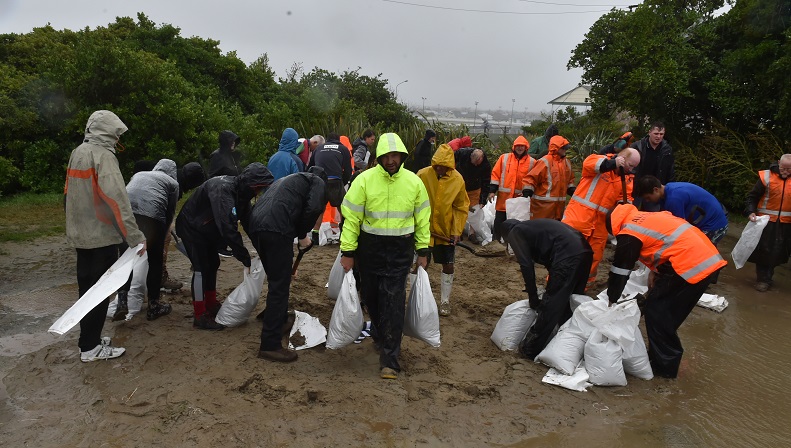 State Highway  88 to Port Chalmers will need to be reduced to one lane today for repairs to a wastewater pump station affected by a power cut.
Two cruise ships are due in port today, and the road works will be scheduled around peak transport times.
Several schools closed early yesterday in an effort to keep cars off the roads when rainfall and flooding was expected to peak.
South Dunedin schools would be able to open today, depending on how much floodwater remained nearby, Ms Mash said. The Forbury Park  trotting meeting yesterday did not go ahead. Masters Games participants are arriving today, and the condition of sports grounds will be checked this morning.
The Taieri was also hit hard, with extensive flooding in Mosgiel and its surrounds.
"There has been a significant amount of surface water in Mosgiel ... and it has been too great for the system to cope with," event controller Richard Saunders said.
"There have been some flooding issues out there."
Civil Defence  was still monitoring the Silver Stream last night but expected no serious problems after the rain had eased off.The wider Otago region did not escape the deluge.
Roxburgh, which was cut off by flash floods in November, was   again dealing with major landslips which had made the three main routes in to the town impassable.
An estimated 100mm of rain fell in the central Otago town yesterday.
Transport Agency senior network manager John Jarvis said highways would remain closed overnight before hopefully reopening this morning.
"We haven't had any massive rocks that have come down in this event, it's been more finer material that's come down, but a lot of it."
Ajax St in Milton was closed, and roads were also affected by surface flooding in Lawrence.
Queenstown Lakes District Council was reporting significant flooding  in Mt Aspiring Rd, outside Wanaka between Mt Roy car park and the lake front near Ruby Island.
Several roads at the head of Lake Wakatipu were also closed.
Wanaka received 72.6mm of rain yesterday, and Queenstown 57.4mm.
Oamaru was soaked by 57.4mm of rain, but avoided the worst of the deluge and only mild surface flooding was reported. About 47mm of rain fell in Invercargill.