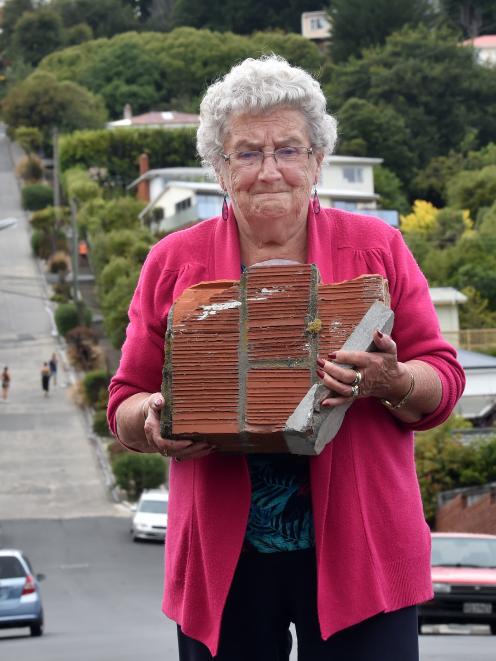 If Baldwin St reclaims its title as the world's steepest street, new rules for residents-only traffic could be revisited.
Responding to the concerns of a 27-year resident of the street - whose front wall was recently damaged by a tour bus - Dunedin City Council acting group manager Merrin Dougherty told the Otago Daily Times changes including reviewing signs and restricting visitor traffic could be revisited after proposed changes were dropped last year.
''In a public meeting with residents over a year ago these subjects were discussed and feedback had been that signage and amenity was sufficient.
"Residents-only traffic was discussed and could be considered should Baldwin Street retain its 'steepest street in the world' status,'' she said.
Coleen Williamson was not at home when the latest crash occurred on her property near the bottom of the popular tourist stop about 8.45pm on Friday.
However, her neighbours had intervened and one took the name and phone number of the driver of the unmarked tour bus that failed to negotiate turning around in the street.
She said she spoke to the man.
''I'm afraid to say, I gave him a piece of my mind.''
The driver, who identified himself as Steve Choi yesterday, said it was the first time he had driven a vehicle of that size in Baldwin St; he had not seen road signs at the entrance of the street; and he would call Mrs Williamson again to pay for the damage.
''I love Dunedin, I think it's such a beautiful city,'' Mrs Williamson said.
''No way do I want the tourists to stop coming. I enjoy them... but I'd like a bit of respect for our property.''
Cigarette butts were recently left in her letterbox, her immediate neighbours' fence had been bowled by a visitor's camper van and her own front wall had been damaged ''many, many times''.
She believed the street would get its title back and said limiting traffic to residents-only could be an appropriate step.
Last year, Dunedin surveyor Toby Stoff visited Ffordd Pen Llech in Harlech, Wales, which dethroned Baldwin St as the world's steepest street in July.
He said his findings backed up his claim that Baldwin St was steeper than its Welsh rival.