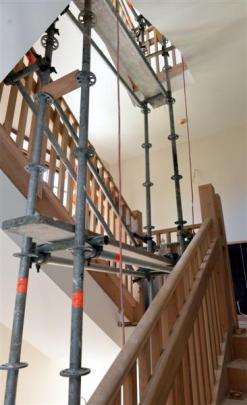 Contractors are putting in seven-day weeks to make sure the extensive earthquake strengthening and refurbishment of Selwyn College is complete before students move in next week.
The hall has been a hive of activity over the summer months, as workers rush to complete about $3.8 million worth of work in a short amount of time.
Arrow International project manager Sam Cadden, who also worked on the $12.1 million earthquake-strengthening and extension completed at Knox College last year, said the aim was to have the project finished by Wednesday, when the first students were due to arrive.
As was expected, it had been a close run thing. Contractors would have to work both today and tomorrow to get the work completed on time, Mr Cadden said.
''When you have only got a window of opportunity and you are doing refurbishments of this scale, it is always a close thing.''
Despite the project being a smaller job than the Knox refurbishment, it had been more difficult, largely due to fact contractors were working in more confined spaces.
''Because it's a smaller area ... we literally had people working on top of each other.''
The project had gone ''fantastically'' well, in large part due to engineers and architects being on call whenever issues came up, as was expected with such an old building.
The work that remained to be completed was largely cosmetic but there would still 60 to 70 contractors working on the site today and tomorrow.