Nearly two-thirds of Dunedin residents think public consultation is lacking at the Dunedin City Council, the latest Dunedin Residents' Opinion Survey says.
Central city parking, traffic flows and a lack of council transparency were other issues raised in the latest survey of more than 1300 residents' views.
While overall satisfaction with the city increased from 52% to 54%, satisfaction about value for money decreased from 46% to 42%.
Parking satisfaction in the central city remained low at 20%, alongside satisfaction with roading infrastructure which fell from 35% to 30%.
Satisfaction about on-street parking was 23%, while 24% were happy with the flow of traffic at peak times.
More parking, being more environmentally friendly and improvement of roading infrastructure were described as top priorities.
No enough public consultation was undertaken, residents said, evidenced by a 10-point drop from 48% to 38%.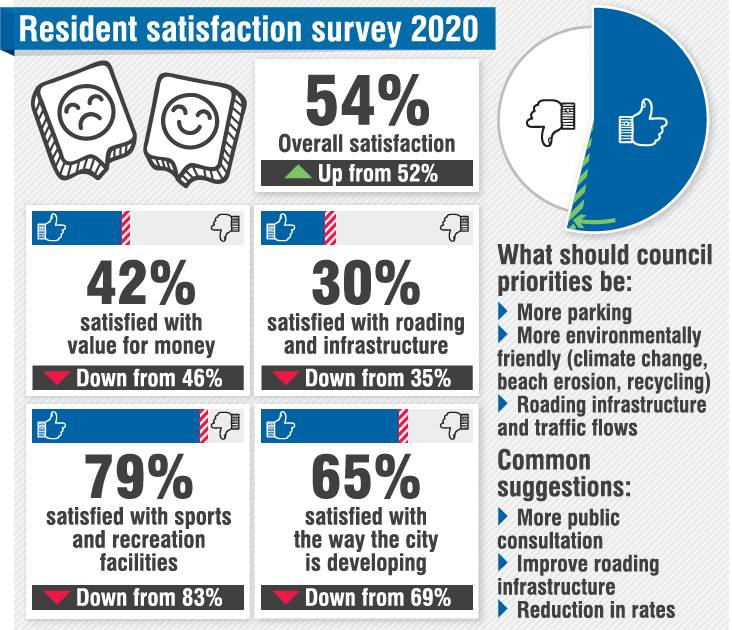 Residents commented on the need for more consultation about key projects and improved transparency, noting the importance of listening to the public, a report to be discussed by the Dunedin City Council said.
Service and infrastructure received the highest overall satisfaction rating at 66%.
Performance of the mayor and councillors dropped from 43% to 40%.
Mayor Aaron Hawkins said the survey provided a useful snapshot of how people were feeling and showed the council where to focus its attention.
It was encouraging to see a slight lift in satisfaction with council as an organisation, he said.
"The solutions to the two biggest issues, for example a desire for greater climate action and providing more car parking, are irreconcilable, at least on the surface.
"Likewise, people want us to do more to up our game in some areas but also want us to reduce rates and debt ... managing these competing priorities is the job at hand when we sign off on our draft 10-year plan."
He encouraged people to share their views during the formal 10-year plan feedback process between March and May.