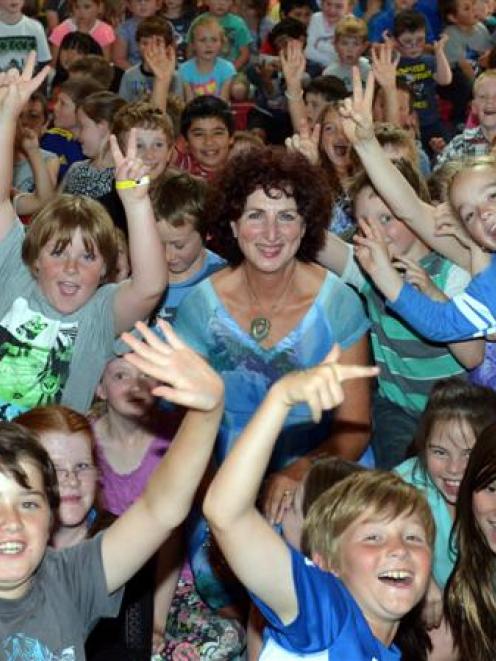 What do you call it when you retire at age 60, but keep working part-time while enjoying all those activities you did not have time for during your 35-year teaching career?
Semi-retirement?
Tainui School principal Ros McQuillan-Mains calls it ''realignment''.
''My daughter calls it graduation.
''I like that word, but I think I might make up a new word for it. I'll get back to you on that one.''
The 60-year-old will officially retire at the end of term 1 (April 17), and while some say 60 is too early for retirement/realignment, Mrs McQuillan-Mains said it most definitely was not.
''It's going to be very hard to leave. This is an amazing school, but the time is right.
''You leave a school when it is in good heart.
''The time is right for new leadership. The school is in a very strong position and will go from strength to strength under the new principal.''
She began her 35-year teaching career at Andersons Bay School before moving to Melville Park School, Gore Main School, Arthur St School and George Street Normal School.
Her first principalship was at North Taieri School, and for the past 15 years she has been principal at Tainui School.
Mrs McQuillan-Mains said she would miss the people most.
''I love the children, the parents, the teachers - it's an amazing community.
''They will be in my heart - they won't go away.
''It's been a privilege to lead this amazing school.''
During her teaching career, she has gained much experience in Maori education, and Tainui school has gained a reputation for embracing te reo Maori and tikanga.
Mrs McQuillan-Mains has been asked to share that knowledge with other teachers as a Maori Achievement Collaborative facilitator.
She will work with a cluster of schools in Christchurch while continuing to mentor first-time principals in Otago. Mrs McQuillan-Mains described life as a school principal as a 24/7 job, and was looking forward to having more time for personal interests, such as biking, tramping, and spending more time with her six children and five grandchildren.
The new principal is Shelley Wilde, from Portobello School.