Dunedin's summer was its second-warmest on record, and some unusually high temperatures were also recorded elsewhere in Otago and Southland, as New Zealand experienced its third-warmest summer, Niwa figures show.
The hot, dry summer conditions continued in the city yesterday, as Dunedin recorded its sixth-warmest March day on record, and a 29.3degC peak just before 3pm, Niwa climate scientist Nava Fedaeff said.
The highest one-day summer rainfall in the country was 200mm, recorded at Milford Sound on January 19.
Dunedin's mean 16.1degC air temperature for the summer, at the Musselburgh station, was the second-highest on record, and 1.4degC above normal.
The previous summer was Dunedin's hottest on record.
The latter margin above the normal average temperature was the second-highest among the country's six main centres, bettered only by Tauranga (1.7degC).
But mainly because of Dunedin's cooler southerly latitude, its mean temperature was the lowest of the main centres, which were topped by Tauranga (20.8degC), which joined Dunedin in also having its second-highest recorded mean temperature.
Dunedin also narrowly recorded the lowest summer sunshine hours in the country: 652, just behind Christchurch (654 hours); Tauranga being the sunniest (819 hours).
Dunedin recorded a lower than average summer rainfall: 160mm, which was 72% of normal.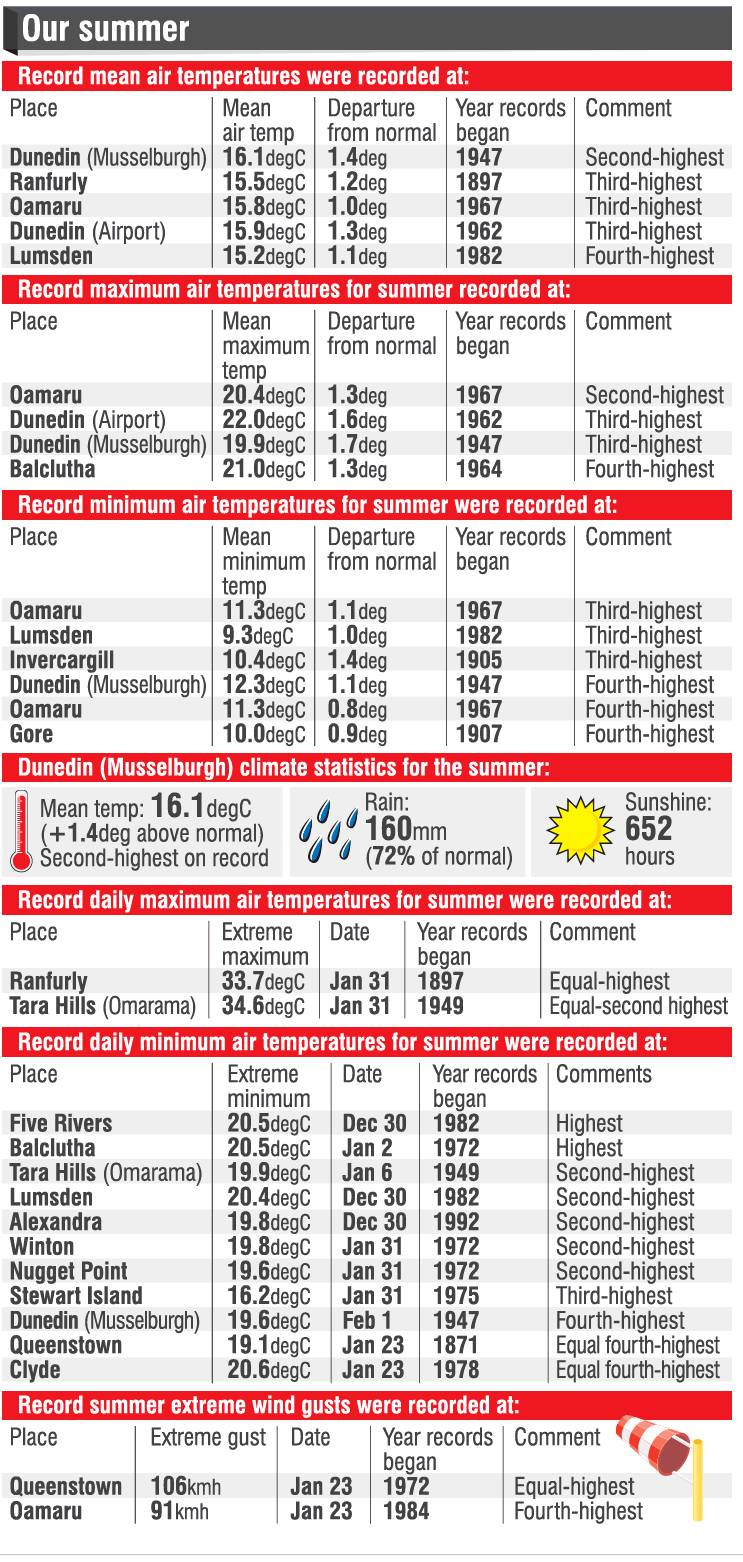 Tauranga (313mm) was the wettest of the main centres, followed by Auckland (278mm).
Ranfurly featured several times in the latest climate statistics.
Its 33.7degC temperature on January 31 was the second-highest there since records began in 1897, and its average 15.5degC summer air temperature was the third-highest on record.
Many places in Otago and Southland also featured in record or near-record summer daily minimum air temperatures, including the highest recorded in Balclutha since 1972: 20.5degC on January 2.
Puysegur Point (19.6degC on February 10), Tara Hills (19.9degC, January 6), Lumsden (20.4degC) and Alexandra (19.8degC), both on December 30; Winton (19.8degC) and Nugget Point (16.6degC), both on January 31, all recorded their second-highest daily minimum air temperatures for summer.
Queenstown was hit by a 106kmh wind gust on January 23, equal with the strongest summer gust there since records were first kept in 1972.
And a 91km gust at Oamaru on the same day was the fourth-highest summer gust recorded there.
Miss Fedaeff said that a marine heatwave in the Tasman Sea, above average temperatures in New Zealand coastal waters and high pressure systems arriving from Australia until the end of January had contributed to hotter than usual conditions in Otago-Southland and elsewhere in the country.
A ''distinct lack'' of cooling southerly winds added to the picture, she said.