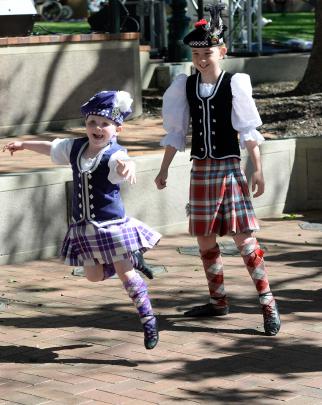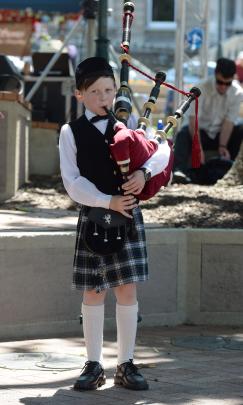 A sea of moving tartan swished and the skirls and drones of bagpipes  permeated the Octagon yesterday  as Dunedinites demonstrated  Scottish heritage to celebrate St Andrew's Day.
More than 1000 people, many wearing full Scottish regalia, packed into the Octagon to watch highland dancing, try tossing a caber or to enjoy a hearty bowl of porridge.
There was also a traditional haggis ceremony, with samples of the delicacy available for anyone who wanted to try some.
Dunedin-Edinburgh Sister City Society chairman Bruce Nicholson said the event had gone from strength to strength in the three years it had been held.
"Everyone is very happy, it has gone exceedingly well."
People seemed keen to connect or reconnect with their Scottish roots, Mr Nicholson said.
It was also a chance for the city's different Scottish groups to come together.
"We have the different clans down here and the  Caledonian Society with their kids highland games, so it's great to have us all in one place."
The Caledonian Society's director for life, Wayne Allen, revealed that the secret to getting a good caber toss was to land the caber almost vertical. Mr Allen was on hand yesterday to help those folk trying out the traditional test of skill and strength for the first time.
"A lot of people think  it's  just a matter of strength but it's quite technical too," Mr Allen observed.