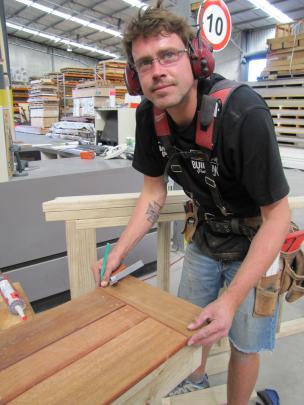 Organisers of the 2017 New Zealand Certified Builders (NZCB) Apprentice Challenge were looking for passion in the apprentices who took part in the regional finals in Dunedin and Cromwell on Saturday.
Passion is what they got.
NZCB Otago president Sacha Gray said it was a tough job choosing a winner from the five apprentices who were deep in concentration and working with great purpose at the Otago regional final hosted by Otago Polytechnic.
''It was very, very close.''
And passion was clearly to the fore for Otago winner Chris McLean.
''I'm just really, really stoked,'' he said shortly after the event.
''I put a lot of preparation into it because I really wanted to win.''
Mr McLean said he did not look at the other four apprentices during the eight-hour event.
''I was aware that if I did, I would wonder about how they're doing it, or change my mind on something.''
He said he made a ''huge cock-up'' with part of the build, though he managed to deal with the situation and finish the job.
The Dunedin event was one of 14 held simultaneously across New Zealand.
The event was held alongside the Central Otago and West Coast challenges in Cromwell on Saturday.
Mark Templeton, of The Builders, in Queenstown, won the Central Otago Apprentice Challenge and Alex Hooper, of Clint Jarvis Construction, in Fox Glacier, won the West Coast Apprentice Challenge.
All three winning apprentices will now attend the upcoming New Zealand competition in Auckland from May 25-27.
The apprentices were required to demonstrate their skills by building a high-spec outdoor table and bench seating within a set time frame.
The table included carpentry joints in its design, something that was a challenge for the competitors. Mr Gray said the men started at 8am, had half an hour for lunch, and had to down tools at 4.30pm, finished or not.
There was time set aside for ''smoko'' but such was the pressure of the competition ''most of the guys are wanting to crack on''.
The competitors got the plans for the table a week beforehand, and had done plenty of preparation before they started building.
''For us in the industry, it's quite exciting to watch it,'' Mr Gray said.
''That's the passion we want. It's exciting sort of stuff.''
Judges measured the finished works ''literally down to the millimetre'', he said.
''It's about the finesse and finish of the job.''
The tables and bench seating will be donated to local community groups.
-Additional reporting by Pam Jones