There was a huge turnout in Dunedin as the South kicked off School Strike 4 Climate marches and events.
Thousands of people are taking part in what could be the country's biggest intergenerational climate change march.
It is the third School Strike 4 Climate, part of an international movement sparked by Swedish teen Greta Thunberg.
In Dunedin, a crowd of at least 2000 took part in a march that began at the Dental School building at 12pm,  then along George St to The Octagon, chanting: "What do we want? Climate justice. When do we want it? Now!"
More than 40 events are being held nationwide, including other parts of the South.
Among them were Otago Girls' High School pupils who put together a petition, under three headings:
We call for action (political call)
We commit to change (personal commitment)
We claim our future (signatures) 
The petition would be sent to Climate Change Minister James Shaw, the Dunedin City Council and the Otago Regional Council.
Queenstown
In Queenstown more than 500 predominantly young people turned out for what is thought to be the largest peaceful protest in the resort town's recent history.
The protesters marched from Queenstown Gardens to Earnslaw Park.
Wakatipu High School head boy Archie Ritchie lead the chants of: "What do we want climate justice, when do we want it now," and "No more coal, no more oil, keep carbon in the soil". 
Wanaka
In Wanaka hundreds set off from Lismore Park marching down to the Dinosaur Park on the waterfront where the numbers swelled to an estimated 600.
The crowd then marched, chanting and singing at the same time, along Ardmore St to the Wanaka office of the Queentown Lakes District council, where it halted and blocked traffic in both directions for some time causing afternoon traffic chaos.
The protest march then returned to the Dinosaur Park for speeches and spot prizes. 
Invercargill 
From school pupils to local government representatives and MPs, about 100 people from across Southland gathered today to call for ''action'' on climate change at the Queens Park Feldwick Memorial Gates, in Invercargill.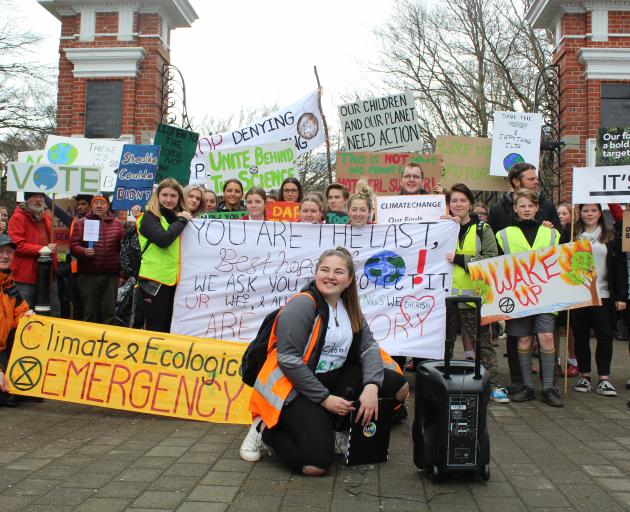 "First, I think it [climate change] needs to be accepted, because people aren't accepting that it's real or happening, and that would be a huge step for Southland,'' School Strike for Climate Change Southland coordinator Ashleigh Putt-Fallows said.
"[Today] is part of the international action plan for climate change, specifically for Southland we have our demands such as a climate emergencies [to be] declared, and that we get good business plans in place to say exactly what a green business is . . . '' she said.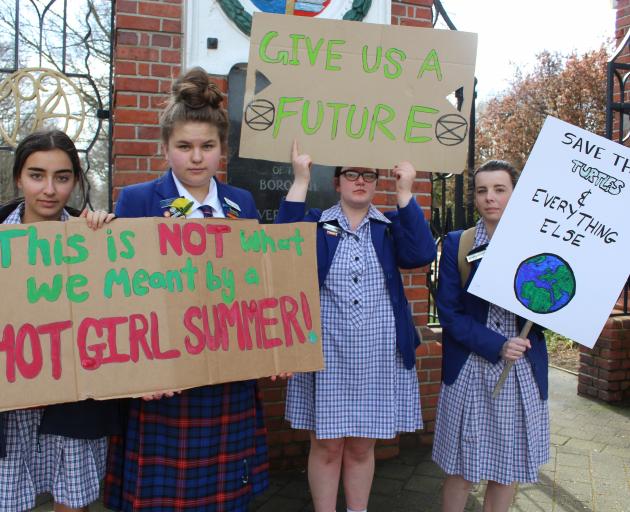 Central Otago
In Alexandra, dozens of banner-toting residents led by Dunstan High pupils marched down Dunorling St towards the Central Otago District Council building.
Central Otago Mayor Tim Cadogan and council infrastructure services manager Julie Muir invited residents and pupils into chambers to discuss issues and brainstorm ideas on how to address climate change and sustainability.
Other events will be held in  Wanaka and Queenstown from 3pm.
Organisers have called on the wider public to join - dozens of businesses and organisations across the country were expected to take part.
An open letter with more than 11,000 signatures will be delivered to Parliament, calling for the Government to declare a climate emergency and to start building a renewable and regenerative economy.
- ODT Online and RNZ