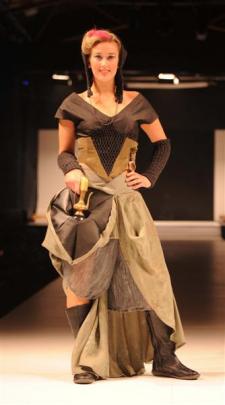 Staying late at school and going in at the weekend paid off for Bayfield High School pupil Emma Rogers-Bromley when she won the steampunk schools' award at the Hokonui Fashion Design Awards in Gore at the weekend.
It took Emma about two months to craft her entry and when she found out she had won it was "pretty amazing", she said.
"I was like 'Oh my God, I won'."
It was the first time she had entered the competition, which attracted 215 designers this year.
"I thought it would be cool and a good opportunity."
She only knew a little bit about steampunk, after a visit to Oamaru, but said books and the internet were a good source of inspiration.
Emma worked on the two-piece ensemble, consisting of a skirt and pants in one, and a corset-style top, in class time, after school and on weekends.
She wanted to thank her textiles teacher Catharine Kan "because she was good at motivating me and helping me work out problems".
Although unsure if a career in fashion design lay before her, Emma encouraged others to enter the Hokonui awards because "you never know" what will happen.