After it's all said and done, votes cast by residents for the Dunedin City Council and Southern District Health Board will be calculated by an algorithm. Dunedin is one of 11 local bodies — and all district health boards — which use the single transferable vote electoral system. Proponents say it leads to a more representative council and reduces the number of wasted votes. Critics say it is too complicated and complex, leading to voter confusion and apathy. City council reporter Tim Miller asks Prof Janine Hayward from the University of Otago's politics department to simplify the process.
Q What is single transferable vote (STV) and how does it work?
STV is a proportional representation system. You cast a single vote by ranking the candidates you prefer, starting with 1 for the candidate you like most, 2 for second and so on for as many or as few as you like.
Q Do you need to rank every candidate or just those you want on the council?
You don't have to rank every candidate - you can just rank the candidates you want to help get elected. Some people encourage voters to rank all the candidates, but we know that this can put people off voting if the job of ranking them all seems too hard.
Q If you don't want a candidate elected, is it better to give them a low ranking or not rank them at all?
If you rank someone, you are potentially helping to elect them. But if you really don't want someone, you can rank them last after everyone else, which essentially means you are willing to help everyone else get elected before that candidate.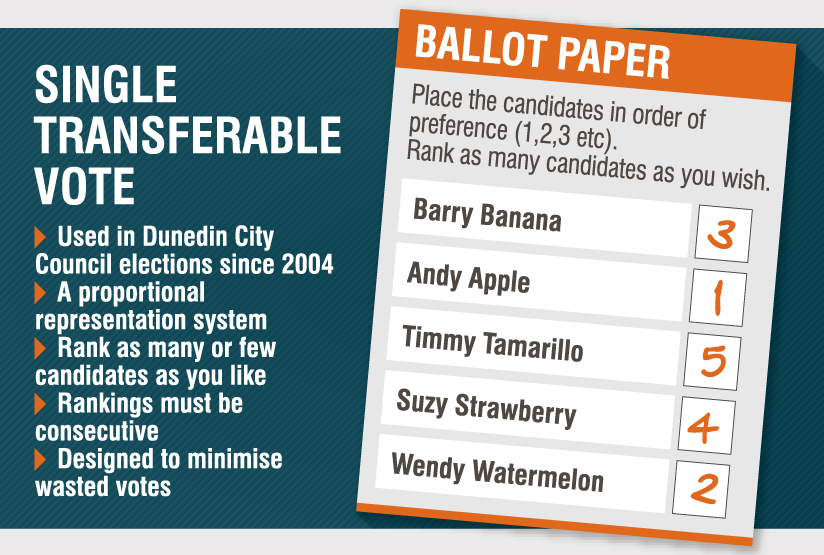 Q Do candidates have to be ranked consecutively or can voters rank just their top and bottom preference?
Rankings must be consecutive for vote to transfer. You can't miss out any numbers in your ranking. If you want to rank someone at the bottom of all candidates, you must rank all the candidates in consecutive order for that to be a valid vote.
Q Are there any wasted votes under STV?
There are still some, but the system is designed to minimise wasted votes. The more candidates you rank, the less likely your vote will be wasted.
STV is much better at avoiding wasting votes than first-past-the-post (FPP) which is the electoral system still used in most council elections (like the Otago Regional Council).
Q Are the votes counted differently for the mayoral election than in the council election?
It's the same process to count the votes, but the threshold to get elected is higher for the mayor - a council candidate needs to get 6.6% of the vote to get elected, but the mayor needs over 50%.
Q Is there any evidence showing STV is a better option than FPP?
STV is a proportional representation system which means that it is better than FPP - which is not a majoritarian system - at translating people's votes into who actually gets elected.
In elections like the mayoral election, it also ensures that the winning candidate has a majority, whereas FPP usually elects minority mayors. There is evidence that STV helps increase voter turnout when people think their votes will make a difference, and that it increases diversity, when diverse candidates stand for election.