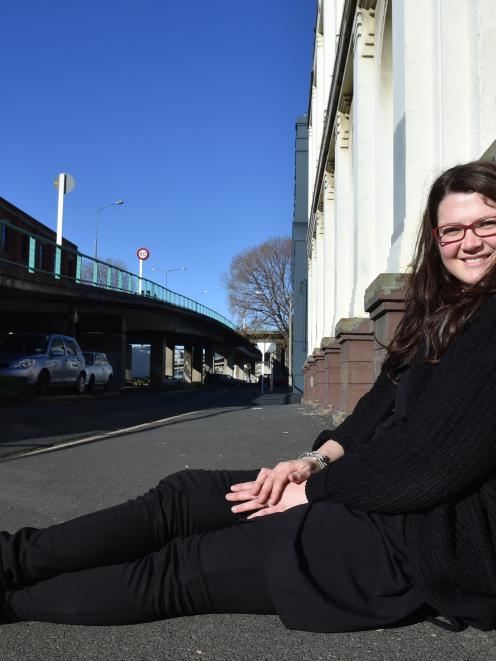 Tart up the warehouse precinct's ugly duckling and watch the rest of it come to life, submitters told a Dunedin City Council hearing about the proposed Jetty St pedestrian zone yesterday.
Jetty St's narrow single-lane thoroughfare between Cumberland and Crawford Sts would become a pedestrian area under Dunedin City Council plans, with traffic access limited to service and emergency services vehicles.
Yesterday, the hearings committee heard from those supporting and opposing the proposal.
Phil Marsh, of the Fire Service, said while the Fire Service was not completely against the proposal, potential problems needed to be worked through to ensure full, quick access for fire appliances could be maintained.
Those issues included the low clearance of the overbridge, which could prove a barrier to the appliances if the street level was raised to the present footpath levels, as well as problems new street furniture could cause around access to buildings.
Also of concern was the Fire Service's ability to use Jetty St as a thoroughfare to Stafford St and the hill suburbs. While removable bollards would allow access, they took time to operate, he said.
Submitter Ian Scarf also spoke of Jetty St's value as a direct route from Cumberland St to Stafford St. Alternative routes were not as direct or quick, he said.
Catherine Spencer said Jetty St was both a convenient thoroughfare and a dark, windy, unsuitable space for pedestrian-only use.
She said the overbridge made the area unattractive and uninviting for pedestrians, and other parts of the warehouse precinct would be better served by the proposed investment.
But those claims were strongly rebutted by the submitters in favour, all of whom either lived, worked or owned property in the area.
Sheryl Cawte, an archaeologist and owner of a building on the corner of Vogel and Jetty Sts, said opposition based on the area's lack of light and aesthetic value was missing the point.
''Saying the area is dark is the main reason we're standing here. We're saying this area can become light.''
The entire warehouse precinct was a huge opportunity for growth and urban renewal, and should not be limited to Vogel St, she said.
''Perhaps we should start thinking of these unusable spaces as usable. That's why we've got designers.
''Five years ago would you have said that Vogel St was light and attractive?''Mrs Cawte said she had ''no doubt'' the traffic-free proposal would bring more people in to the area.
Dunedin engineer and historic building developer Stephen Macknight offered similar sentiments, telling the committee the warehouse precinct's buildings were attractive enough to bring people into a pedestrian-only Jetty St.
''You don't want a dingy, dark, dead space right in the middle of an area you're trying to transform.''
If the development was done well it would work, and while the DCC was ''picking the worst bit in the area to do'', that probably was not a bad thing.
''You want the whole area to have a nice feel about it.''
Dunedin heritage building developer Lawrie Forbes said the proposed development could turn Jetty St into an ''interesting'' space, unusual because of its narrowness and looming overbridge.
''But people go to interesting places. You're actually going to have people using it.''
The hearing was completed yesterday and hearings committee chairwoman Cr Kate Wilson said council staff would now consult emergency services on access to the Jetty St area and on alternative thoroughfare options. No timeframe had been put on when those discussions needed to be completed.