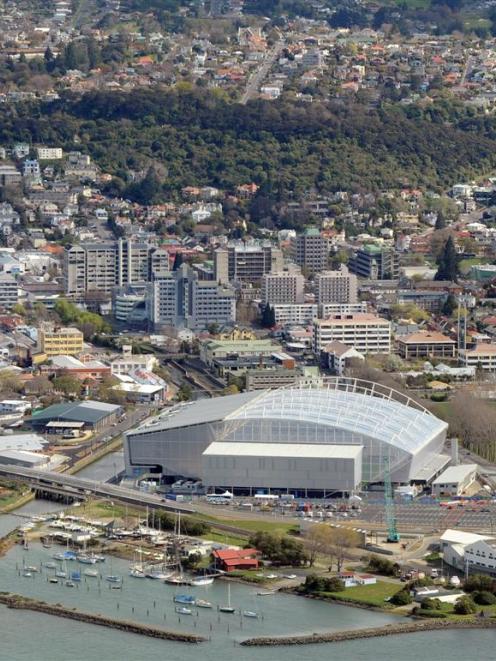 Forsyth Barr Stadium may be losing money but events held there since it opened have provided a $45 million economic benefit for Dunedin, the boss of the company running the stadium said as the city council agreed to pump in another $1.4 million to help the company break even.
Councillors agreed yesterday that covering Dunedin Venues Management Ltd's predicted loss for 2014-15 was the most sensible option until a realistic operating model for the venue was in place.
That was expected to be next year, after options flowing from a comprehensive review of the stadium's operating model were considered.
Cr Richard Thomson said if the council did not cover the company's losses, it would become insolvent, which would create a bigger problem for the council and leave it with the debt to pay anyway.
He received general agreement from councillors, several of whom said it was widely known stadiums made no money. Rather, their role was to galvanise the community and increase economic flow-through to their cities.
DVML chief executive Terry Davies said the stadium was definitely doing that, according to an as yet unpublicised analysis of the total economic benefit of events held at the stadium so far, which showed a benefit of $45 million to the Dunedin economy.
He said details of that would be released as part of the stadium review.
Councilllors voted to inject the extra money into DVML as well as make a one-off $2.21 million payment, funded from this financial year's surplus, to reduce the company's debt.
The only dissenter was Cr Lee Vandervis, who voted against spending the money because he believed the city should not bail out DVML again, when it had failed to follow its statement of intent by not consulting the council about purchases over $1 million or taking orders from the council.
''They are supposed to be a council-controlled organisation, and are completely out of control.''
Mr Davies told councillors, who were seeking assurances, that DVML was committed to becoming more transparent to the council and the community.
As part of the bigger review, he was leading a review of the management that would see a change of personnel, and he intended in future to forecast budgets that included only events the company was 80% sure of getting.
''I'm absolutely confident we'll sort it out.''
Cr Thomson said tiding the company over for the third year in a row was undesirable, but the most sensible thing to do.
He said Cr Vandervis could take the moral high ground but that did not absolve him from the responsibility of explaining what he would do when DVML could not meet its loan repayments.
''Ultimately, [the DCC] will have to pay one way or the other, and if we have to do that, we need to do it in the most sensible way.
''I know some people think we should not pay and close it down. But that simply means you end up with a train smash you still have to pay for.''
Following several comments from the table, Crs Mike Lord and David Benson-Pope warned it was important people did not think the stadium would necessarily make a profit following the review.
It was a wonderful venue and the city buzzed when something was on, but it might only break even once the debt was lower, Cr Lord said.
He said he had been against a stadium but, now it was there, shutting it down should not be an option.
''The signals we are sending to this city are important, and I don't ever want to send a signal that something can't be done.''
Mr Cull said the debt had to be paid whatever happened.
''We're going to have to pay it off whether it makes a profit or not, whether it's open or closed, whatever, and this seems like a very intelligent way to do that.''
Cr Kate Wilson was assured the surplus money was being spent on the most high-interest debt the council had and Cr Chris Staynes said the stadium was built not on the basis it would make money, but that it would attract money to the city.
''And while I voted against it, when you get an event in there, the flow-in for the economy is significant.''