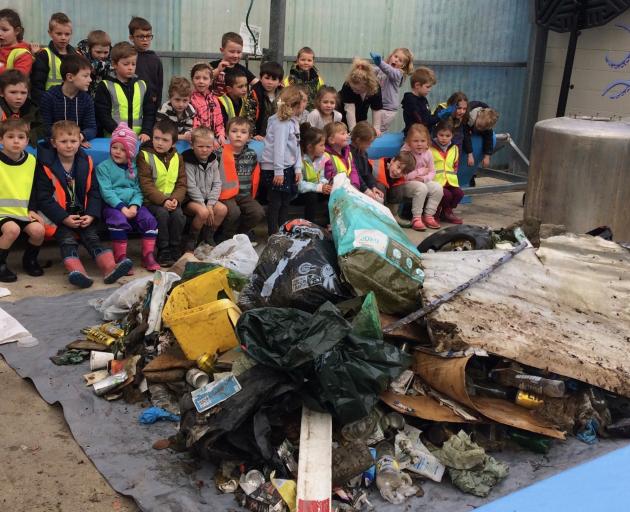 Outram School pupils collected a vast pile of rubbish from the rural roadsides near their school during a recent clean-up.
In a project relating to their sustainability studies, about 35 year 1 and 2 pupils and proactive parents cleaned up about 8km of Huntly and Maungatua Rds on the Taieri.
The late-August clean-up was the brainchild of Room 2 and 3 teachers Lynda Bayne and Julie Grace, with the enthusiastic support of their young charges.
"The children went out in pairs, supported by a parent, and collected a `gi-normous' pile of rubbish,'' Mrs Bayne said.
The refuse included beer bottles, cardboard, disposable cups and pottles, lots of plastic, and even shirts.
After sorting the materials into types, Outram School recycled as much as possible and took the rest to the landfill, Mrs Bayne said.
The children were less-than-impressed with the smelly results of their collection, and made their feelings known in letters asking people to stop littering the countryside.
In her letter, Hannah Wells (6) lamented the "smelly job'' of picking up rubbish on Huntly Rd.
"I live on Huntly Rd and I want it to be tidy. It was a disgusting job and I do not want to be picking up rubbish again,'' Hannah wrote.
Caleb Bathgate (6) wrote "Oh! My! Stinky Skunk! Look at all that rubbish!''
He begged people to please "stop throwing rubbish out of car windows because it smelt revolting. It looked really yucky as well''.
Ruby Maloney (5) wrote that the children did not like the rubbish on the roads and around the verges "because it is stinky''.
"People need to stop throwing smelly rubbish out of vehicles.
"Look at us. We have got a whole mountain of it. You need to start putting your rubbish in the bin like we do,'' Ruby wrote.
Mrs Bayne said, along with doing the clean-up and disposing of the rubbish, the Outram School pupils had created pamphlets, which would be distributed across the Taieri by the local postie.
"They have also made new road signs for the area, which will be sent to the council for their consideration,'' she said.
The project had proven a valuable exercise for the children, helping to raise their awareness of a local issue and encouraging them to think of solutions, Mrs Bayne said.
BRENDA.HARWOOD @thestar.co.nz