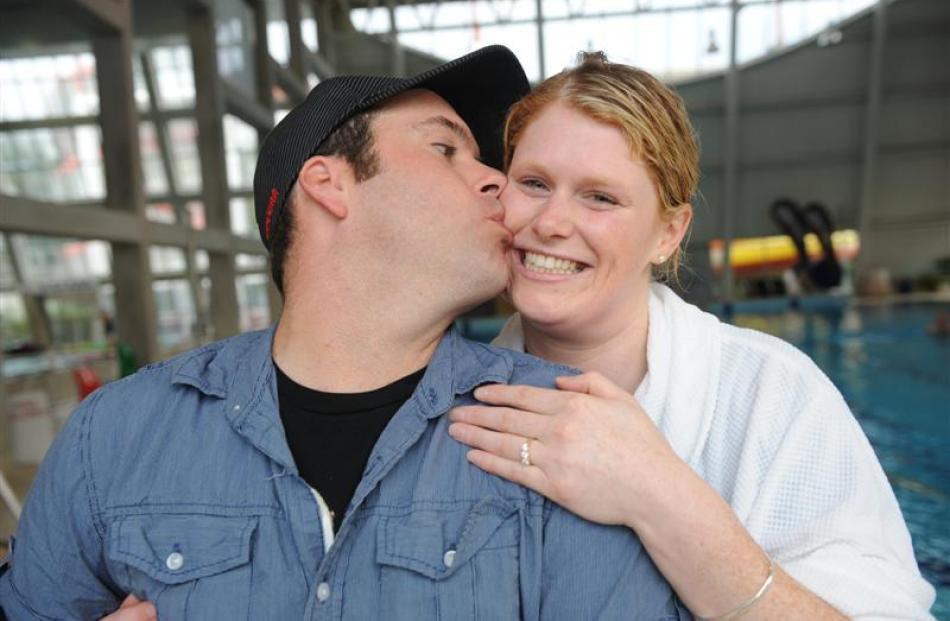 The lure of a $6000 diamond ring on the special date of February 29 prompted a Dunedin woman to pop the question yesterday.
Rochelle Lord (26) had not planned on getting engaged to her partner of one and a-half years, Michael Stevenson (29), until radio station Classic Hits dangled a gold ring in front of her yesterday as part of a leap-year competition.
"I certainly didn't expect to win. I don't think he expected it either," Miss Lord said.
She won a three-diamond gold engagement ring after jumping off Moana Pool's 7.5m diving board to fetch one of five "mystery" balloons.
After realising she was the lucky winner, Miss Lord climbed out of the pool and, still soaking wet, dropped to one knee to propose to Mr Stevenson.
"I was more nervous about the proposal than the great height," Miss Lord said.
"It doesn't feel real and I didn't think it would happen, but now I'm really excited.
"It was down to luck."
While four other contestants missed out, both she and husband-to-be were delighted.
"He had a massive smile on his face," Miss Lord said.
Mr Stevenson said he had a "sneaky feeling" his fiancee was going to win and there was no hesitation before he said yes.
"We were talking about it the other night and I told her, `If you don't win you could be waiting a while'."
"There is no way I could afford something like that [the $6000 ring]."
The pair said there was no need to call up friends and family with the good news because they had been listening nervously to the radio.
"I think Mum had her fingers crossed pretty hard," Mr Stevenson said.
A wedding day would be some time away, and the only solid-gold plan for the two was a "big party" last night celebrating the unusual proposal.