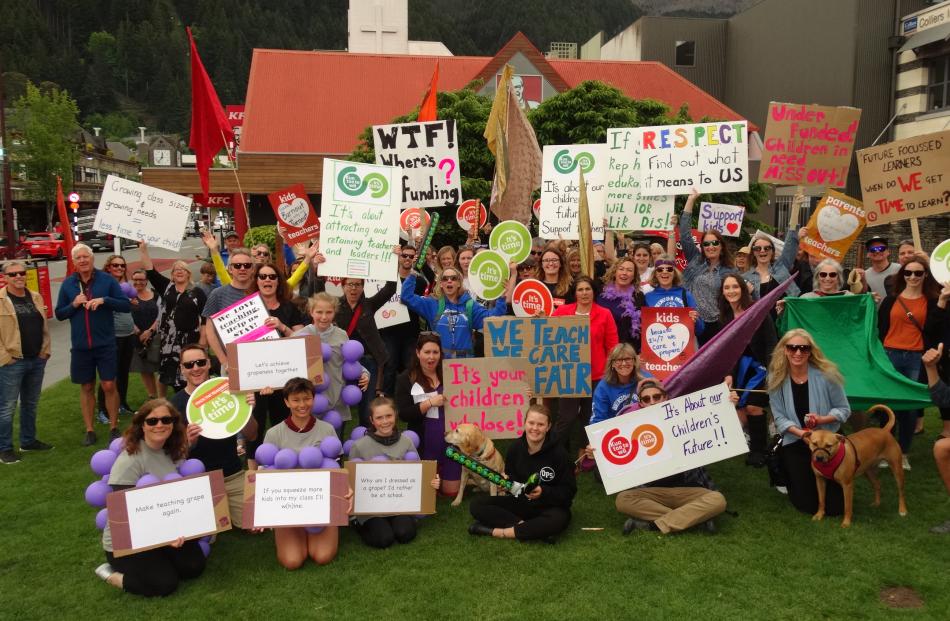 Traditionally, industrial action is about making as much noise as possible, to gain attention and traction for what you want.
But in an unusual move yesterday, about 1000 Dunedin primary and intermediate teachers, principals and supporters gathered in the Octagon for a five-minute silent protest, which emphasised the point that actions speak louder than words.
Long-serving teacher and Mornington School principal Brent Caldwell said it was the first time he had experienced such a demonstration.
He said it was "probably a really big challenge" for many teachers because they had a lot to say about the education sector.
"Our teachers serve their communities extremely well. They work very, very hard.
"But their strength is also their weakness because the public and the electorate seem to think the system is functioning well.
"Those of us who are teaching in our schools know we are seriously underfunded, seriously understaffed and we're just putting up with systematic under-resourcing because we're bloody good people and we like to look after kids.
"There's that expectation that teachers will always go the extra mile.
"So, today is about saying, actually we'll lose another day's pay and we will stand here and try to draw attention to it."
Perhaps highlighting the issue, many teachers said they would go home after the demonstration to write end-of-year reports for their pupils.
Earlier in the day, NZEI Te Riu Roa national president Lynda Stuart met about 600 Dunedin teachers and principals in the Regent Theatre to discuss the Ministry of Education's latest pay offer.
Following the meeting, Ms Stuart said many teachers around the country, including Dunedin, were unhappy the offer did not address time or workload issues for teachers.
"That is a significant issue for our teachers.
"We've said all the way through - it is not just about the money."
She said the main question being raised was whether union members wanted the ministry to put some of the money for pay increases towards initiatives aimed at reducing teacher workload, or extra money put in the offer to cover those initiatives.
"What will really be the telling part, is when we actually go to vote. That's when people will make the decision."
She said union members would vote electronically on the offer in a couple of weeks, and would also decide whether to hold further strikes next year.
Similar meetings were held in Balclutha, Queenstown, Wanaka, Invercargill, Oamaru, Gore and Alexandra yesterday.
About 100 primary teachers took to the streets of Oamaru calling for more teachers and shouting, "Come on, Jacinda. We want it now".
In Queenstown, about 100 teachers were rallied by NZEI national secretary Paul Goulter before marching in protest around the town centre.
About 60 teachers from Alexandra, Clyde, Teviot Valley, Omakau and Poolburn schools picketed outside Alexandra's Pioneer Park, and another 50 teachers from Cromwell and Goldfields Schools gathered beside Cromwell's "big fruit" sculpture on State Highway 8B.
Another 80 from the South Otago region marched through Balclutha to the plaza area to air their concerns publicly.
About 400 Southland teachers gathered at various locations around Invercargill to hand out pamphlets and spread the word about their cause.
In Wanaka, about 50 teachers, parents and pupils marched through the streets with placards, chanting.
Parent Kathleen Zivkovich-Rankin, who had two sons at Holy Family School, said the Government had to listen to teachers.
"They're basically shaping the future of our nation and in this town you can get paid more for cleaning than you can for teaching," she said.