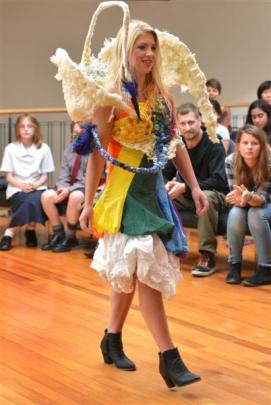 The next generation of Dunedin fashion designers are being encouraged to use old materials for new looks.
A recycled fashion show involving 10 creations by primary school pupils was held at the Dunedin Public Art Gallery yesterday, as part of iD Dunedin Fashion Week.
Secondhand clothing, rubbish and other discarded materials have been crafted by pupils into outfits for the catwalk over the past five weeks.
Dunedin sustainable fashion designer Fiona Clements, founder of clothing label Senorita AweSUMO, guided the pupils through the creation process.
She was pleased with their efforts, saying they gained a greater understanding of how materials could be reused as a result.
The project was a collaboration between Ms Clements, Bathgate Park School, Otago Polytechnic School of Design, iD organisers and the gallery.
Some pieces made by Broad Bay and Portobello primary school pupils were also modelled in the show, which attracted more than 50 school staff, family and friends.
Otago Polytechnic School of Design senior lecturer Tracy Kennedy said it was important for the annual iD events to include community and education-led initiatives.
The classroom work was part of the curriculum and gave pupils the chance to learn hand- and machine-sewing skills.
''The result is an amazing array of upcycling and recycling of fabrics, clothing, junk and all sorts of other throw-away things.''
Two of Ms Clements' outfits were also modelled, by design school students.