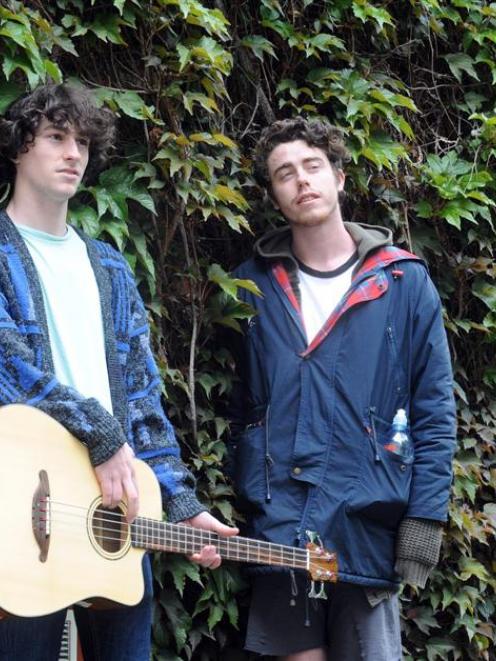 A young Dunedin band has won NZ On Air funding with its first song.
Two Cartoons was one of 16 bands selected from 99 applications for a $10,000 "Making Tracks" grant this week.
The funding will allow the band to record its single Better Coast and make a music video to back up its release.
"It's pretty exciting news. Better Coast is the first song we wrote," Brad Craig (19) said yesterday.
"The idea behind Making Tracks is NZ on Air wanted to record radio quality tracks for bands that couldn't afford to do it," he said.
"It's one of those 'big tick' things, because it means that not just our friends like us, which is a nice feeling."
Funding for the $2 million 'Making Tracks' programme is advised by an independent panel of broadcasting and music professionals, based on the broadcast, music and audience merits of the submittted songs.
Two Cartoons played its first gig in May and followed that up with a tour of Dunedin, Christchurch, Wellington and Auckland.
"We're very different from most bands in Dunedin. For a start, there's only two of us and we really just make carefree pop music," Isaac McFarlane (20) said.
"We're probably the least serious or overbearingly musical band in Dunedin."
The band also recently appeared on a 8500-run industry compilation album of up-and-coming independent bands.
"That was huge for us. We started getting emails from people in the States, and things, from people wanting to work with us," McFarlane said.
"We've got ambition, but we don't take ourselves too seriously. The band name, Two Cartoons, is about us having the same crazy ideas and just being kids.
We wanted a name that represented that.
The duo plans to release Better Coast in February or March, but they had "no idea" what they were going to do for their video, McFarlane said.
"Knowing us, it won't be something very serious." Dunedinmusic.com manager Scott Muir said Two Cartoons was the youngest band to win a NZ On Air grant.
News of the funding comes as Flying Nun Records celebrates its 30th anniversary this month.
The band will play in Saturday's Flying Nun tribute concert at Chicks Hotel in Port Chalmers.