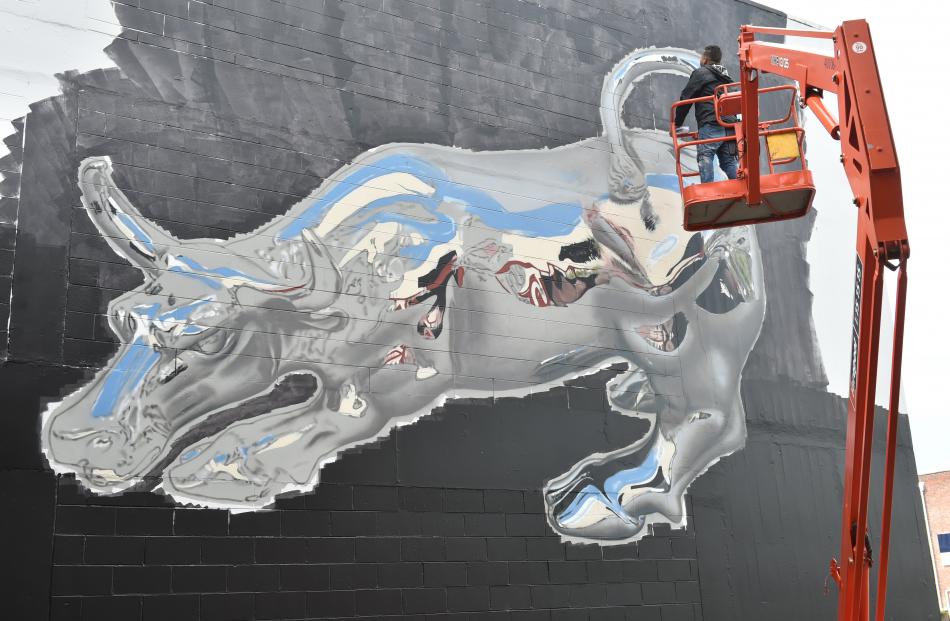 Work on two  additions to Dunedin's burgeoning street art scene has begun.
The Dunedin Street Art Trust has attracted two artists, Puerto Rico's Joshua Santos Rivera, also known under the pseudonym Bik-Ismo, and Jacob Yikes, of Christchurch.
Yikes said he had been painting "big-scale stuff" for about seven years, but had been an artist for the past 15.
He had done works in Auckland and Tauranga, and had been busy in Christchurch, with a lot of work commissioned since the earthquake. That had helped him work as a full-time artist.
He became involved in his Dunedin project, in the car park of the Scenic Hotel Southern Cross, after being contacted by Dunedin Street Art Trust member Justin Cashell about two weeks ago.
He submitted a design and it was accepted.
"My style is cartoon surrealism."
Yikes said he put a personal spin on most of his paintings, using high impact colour and scale.
"A lot of the final detail will be made up on the spot."
He expected the painting to be finished yesterday,  as long as the weather held.
Rivera is working on a site behind 169 Princes St, beside the car park on Dowling St.
He is a graduate from Escuela de Artes Plasticas de San Juan, and has worked as a graffiti artist for more than 15 years.
Rivera has exhibited throughout the world, and is known for his 3-D metallic murals, an effect he has planned for his Dunedin work.
Mr Cashell said bringing the artist to Dunedin had been three years in the making.
The trust was "extremely excited" to have him in the city.