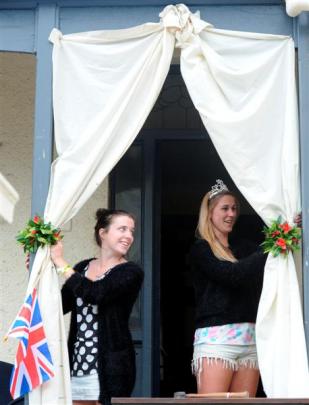 The residents of Hyde St are ready for a right royal party, but have been warned it could be the last if this year's keg party gets out of control.
This year's 3500-capacity event taking place a day before the Duke and Duchess of Cambridge arrive in Dunedin and festivities are set to take on a royal flavour. One flat has the theme ''Your Royal Hydeness''.
University of Otago vice-chancellor Prof Harlene Hayne said the party was an ''opportunity for students to dress up and have fun'', but warned of consequences if it went badly.
''In the event that things deteriorate, then the party will be closed and the university will seek ways to prevent the event from occurring in the future.
''No event, no matter how much fun it generates for a few, is worth the expensive destruction of property or serious injury,'' Prof Hayne said.
Individual students who broke the law would be dealt with by police and those breaking the university's code of conduct could face exclusion from the university.
However, she was keen to emphasise that, as it did last year, the university went into it ''with the idea that it will be a fun and safe day for those involved''.
She was full of praise for the help the Otago University Students' Association (OUSA) gave residents in organising the event.
''They have a consistent track record of organising fun and safe events for large groups of Otago students. ''The Hyde St party was substantially safer last year due to their involvement and I understand that their contribution has been even more substantial this year.''
It was important to point out it was a private party and not a ''university event''.
OUSA administration vice-president Ryan Edgar said OUSA provided harm minimisation and logistics support to the street's residents.
This included having ''Red Frogs'' volunteers handing out food and water and ''Are You OK?'' volunteers for those who had ''indulged maybe a bit too much''. St John and Student Health would be on hand to reduce pressure on the hospital's emergency department.
The party was a closed event and people trying to get in without the proper wristbands could be ejected or trespassed.
While there would always be a ''minority who cause trouble and take the fun too far'' it was hoped the support systems put in place kept the number as small as possible.
St John Otago territory manager Doug Third said it would have a ''casualty clearing point'' set up on the street. It would have 35 staff at the event and an extra ambulance rostered on. Medicine student and Hyde St resident Josh Tiro (19) said he and his flatmates would be getting up for a street breakfast at 5am today and would start drinking after that.
The event was about ''having a good time'' while staying out of trouble, he said. To get the most out the day, you needed to ''pace yourself''.
Inspector Jason Guthrie, acting area commander Dunedin Clutha Waitaki, said police had been involved in organising the event and encouraged those attending to ''enjoy themselves within the bounds of the law''.