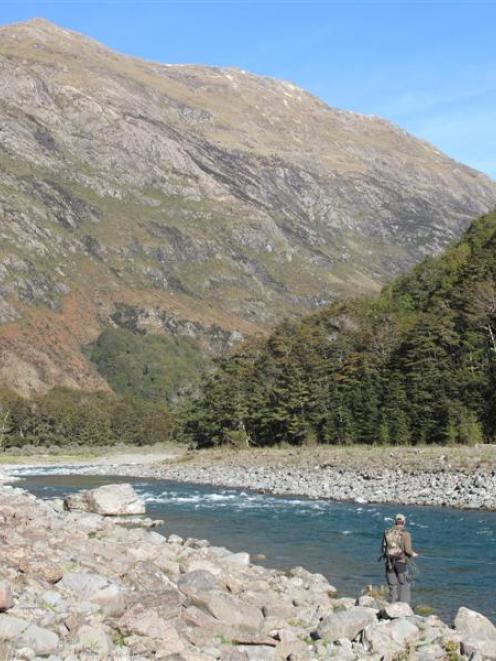 International anglers will soon have to pay a third more than New Zealanders to fish in this country's rivers and lakes.
Fish and Game New Zealand announced this week a non-resident season licence (NRL) will come into force on October 1 when the new fishing season begins.
The new full-season licence will cost $160 compared with $121 for New Zealand anglers.
If found with a New Zealand licence, non-resident anglers could face prosecution for not having a licence and face up to a $5000 fine.
International anglers would also still be able to buy a 24-hour licence.
Fish and Game chief executive Bryce Johnson said the licence was aimed at the dedicated overseas angler who came to fish intensively for days, if not weeks.
It had been introduced to ensure anglers paid their ''fair share'' towards the management of New Zealand's fisheries.
''Non-residents have been getting a bargain - the benefit of a fishery they haven't really paid for - compared with the Kiwi angler who contributed to the ongoing management of fisheries through fishing licence fees and taxes.''
Overseas anglers also made up a significant portion of those fishing fragile back-country fisheries, he said.
Revenue gained from the new licence would be ring-fenced for the management of back-country fisheries.
Fish and Game Otago general manager Niall Watson said Otago's back-country fisheries, such as the Nevis, Greenstone, Caples and Hunter Rivers, were all very attractive to dedicated overseas anglers.
A recent back-country fishing survey showed 41% were overseas residents, with 75% actively fishing compared with 67.5% of New Zealand anglers.
It also showed non-resident anglers spent, on average, more time fishing than resident anglers.
There had been a long-standing call from resident anglers for overseas fishermen to be be charged more.
While he would be surprised if there was not some negative reaction to the new licence, it was important Fish and Game tried to maintain quality fisheries.
Otago Fish and Game councillor and former fishing guide Ray Grubb said Australian anglers might provide the most opposition, as they were coming to New Zealand in greater numbers due to the decline in their trout fishery.
However, most other countries imposed higher fees on non-resident anglers, as did many other sporting organisations such as golf clubs, he said.
The extra $39 would not affect overseas anglers much, given the amounts they spent on accommodation, flights and gear for their New Zealand fishing trips.
''It's not a big deal.''
Fishing licences for the new season go on sale this week for New Zealand residents but the non-resident licence will not be available until the start of the season.