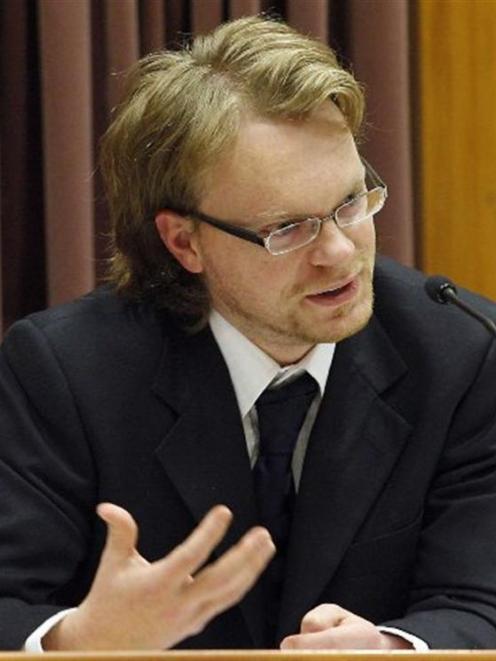 A complimentary letter he wrote to Sophie Elliott in August 2007 had been overstated ''to ensure a good outcome'', murder accused Clayton Weatherston said today.
Weatherston (33), a former University of Otago economics tutor, denies murdering the 22-year-old Honours student who was his girlfriend for several months in 2007.
He acknowledges committing manslaughter and has told the Christchurch High Court he remembers little of the incident in which he stabbed or cut Miss Elliott 216 times.
Today he told Crown counsel Robin Bates he had written Sophie a very complimentary letter three weeks into their relationship to appease her. He was concerned that three weeks into their involvement she was ''already making me question my character. I wanted her to know I wasn't a monster'' as she seemed to think.
And he said he liked the idea of the romanticism of the letter.
''I liked the idea of doing this and thought she'd enjoy the attention of getting the flowers,'' Weatherston said.
But it was something she needed on a regular basis and he did not think that was healthy.
While agreeing he overstated many of the things in the letter, Weatherston said a wish for them to move forward together in a positive way more accurately reflected what he wanted.
It was not all embellishments, he said but it was a concern that three weeks into the relationship there were a lot of problems ''driven by her insecurities''.
''She was enamoured with you, a lecturer?'' Mr Bates asked.
But Weatherston said he was ''getting mixed signals'' and it became very difficult to know what to do. On one hand, she was very keen, on the other, she was falling away.
He agreed that writing such a letter was a risky strategy because ''I knew I was the lecturer''.
He agreed he said in evidence yesterday it was Miss Elliot's mind he was attracted to but the letter said she stimulated him ''mentally and physically''.
''Mentally was the primary thing in the relationship,'' the accused said. Miss Elliot's physical attributes were the secondary form of her attractiveness to him.
Asked about an assault on his former girlfriend, Weatherston agreed that had happened and that it had not been accidental. But he disagreed with the young woman's interpretation of what happened
He thought she was impressionable and her recall was a bit scrambled.
''Whereas yours is just fine?'' Mr Bates said.
''I have a lot more structure in my thinking - I like accuracy - I believe she's a good hearted person but I think she's impressionable.''
''Are you saying some sort of outside pressure has caused her not to tell the truth?'' Mr Bates asked.
''Everyone stands here (the witness box) to tell the truth as best they know,'' Weatherston replied.

He acknowledged the injury to his former girlfriend could have been a lot more serious than a bleeding nose - ''she could have died'' - that it had been very serious.
While accepting the assault was not an accident, the accused denied intending to hurt his former girlfriend. He said he intended to scare her.
He denied he tried to blame her for what happened and he said he had not called her ''an ungrateful bitch''.
''I said ungrateful something but I tend not to insult people in such crass terms. I don't recall saying those words.''
And a threat he made about throwing their cat named Sophie off the balcony of the flat had been ''in jest'', he said.
''I care more about the cat that she does.''
''I can't believe we're talking about this, You're really scraping the bottom of the barrel,'' Weatherston told Mr Bates.
And he said his former girlfriend's threshold for nastiness was very low. She would take to heart comments which another person might not notice.