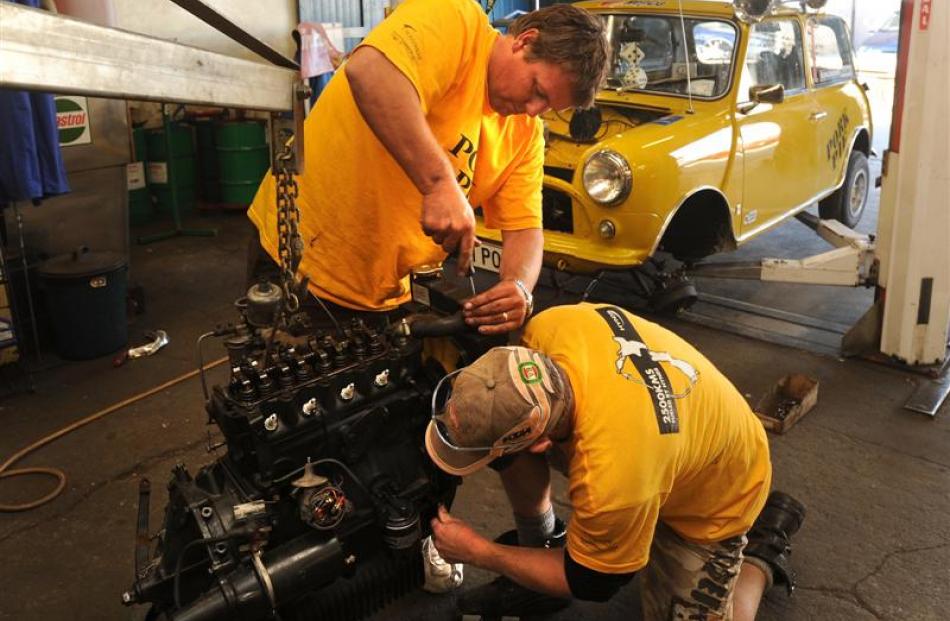 A re-enactment of the movie Goodbye Pork Pie was uncomfortably like the real thing yesterday.
Just as the original yellow Mini was falling apart as it streaked its way south in 1981, so its 2009 counterpart had its own serious troubles.
But in true Blondini style, a "stuffed" engine was rapidly replaced in Dunedin and the 2500km trip from Kaitaia to Bluff continued. Blondini, the film hero who lurched from adventure to escapade, would have been been proud of the efforts four West Aucklanders made to complete the route.
The quartet, in their yellow Mini, were one of 37 groups taking part in a repeat performance, to raise money for the Starship Foundation and to celebrate the Mini's 50th birthday.
The journey, organised by Rod Harris and the Whangarei Mini Owners Group, started in Kaitaia last Thursday and ended in Invercargill yesterday afternoon.
But things did not run smoothly for the Westies when their engine started making knocking noises as they entered Middlemarch yesterday morning, group member Aaron Eagle said.
When the engine expired, they "threw" the Mini on the back of a trailer and headed for Dunedin.
They arrived about 4pm, more than four hours after the first Mini had entered Dunedin's Octagon.
They headed to Clint's Motor Company, on Hillside Rd, where they whipped out the old powerplant and replaced it with a second-hand engine within an hour.
Mr Eagle said having come so far, they could not bear the thought of limping into Invercargill on a trailer.
The group had bought the Mini as a shell for $600 six weeks ago and rebuilt it in time for the journey.
Brett Ireland said his children had been treated at Starship Hospital and the group could not think of a better charity for which to raise funds.
"Plus, you can't have much more fun than doing something like this," he said.
Mr Harris first came up with the idea for the fun run two years ago, and the venture had been 18 months in the planning.
He had taken part in a 1999 rally from London to Italy marking the Mini's 40th anniversary.
Only a few "minor" mechanical issues had surfaced until yesterday, Mr Harris said.
Rain on the West Coast had caused a few issues for Alan and Shelagh Murie, of Manukau, whose "topless" Mini offered no shelter from the elements.
Mrs Murie got out of the car in Haast, leaving her husband to drip dry until Alexandra.
By the time they reached Invercargill yesterday the groups had raised more than $90,000, and hoped to top $100,000 with an auction in the city last night.
The money raised from the run would go toward buying two tissue oxygen monitors, worth $97,000, used during surgery and treatment.
• People can donate money at www.fundraiseonline.co.nz/starshipporkpie.