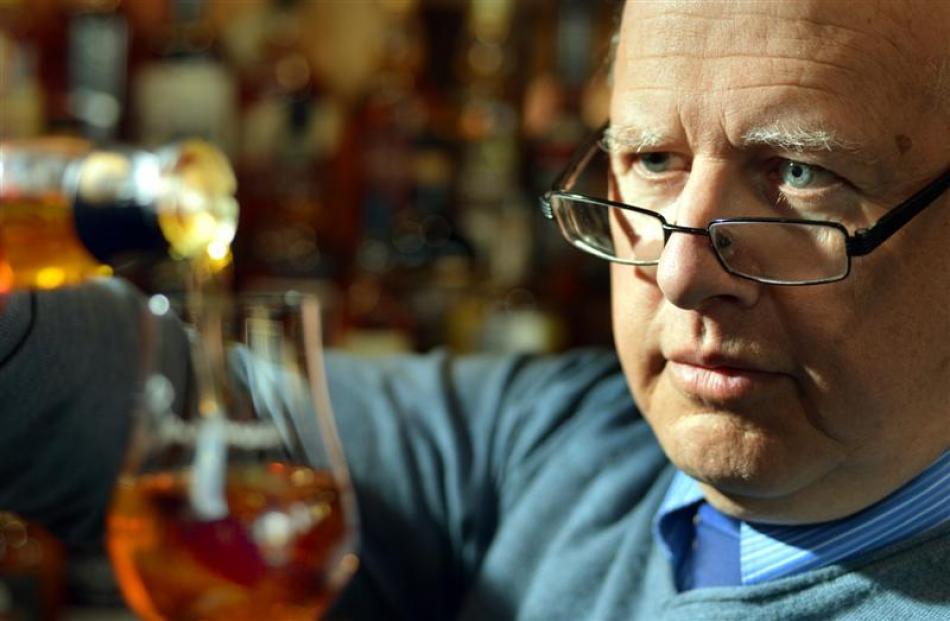 'Tis a day to sniff, sip and sigh.
Whisky fans will be raising an amber dram today in the spirit of World Whisky Day.
New Zealand is one of 36 countries saluting the origins of the liquid gold today.
''Every day is whisky day in Dunedin,'' Dunedin whisky enthusiast John Eckhoff said yesterday. ''It's no wonder the Scots came to Dunedin. People know a proper whisky here.
''There are far more whisky drinkers in Otago than in the North Island, where whisky is mainly used in cocktails.''
Mr Eckhoff has been conducting whisky tastings in Dunedin for more than 20 years.
''People want to know where they're from and why they taste how they do. It's about exploring,'' he said.
World Whisky Day was about ''celebrating the water of life'', Lion spirits ambassador Frankie Walker said yesterday.
''The variation of flavours is so dramatic and there's such a romance about whisky. It's a connection to a land and a place,'' he said.
The early Scottish settlers in New Zealand began distilling whisky in Dunedin and Otago in 1838.
''You have a great history of distilling and producing whisky in Dunedin.
''You've definitely got the climate for it. If you look at Otago and places like the Mackenzie Country, it's so much like the Scottish Highlands.
''And Robbie Burns would have been a whisky drinker, of course.
''If you're reading Burns and addressing haggis, then you must be drinking whisky.''
There was no right, or wrong, way to drink whisky, Mr Walker said.
''Like red wine, whisky is going to express itself best at room temperature.
''But if you want ice with it, fill your boots. When you put water with it, it reduces the alcohol and releases flavour.
However, he was reluctant to identify his own favourite amber drop.
''It's like asking a woman what is her favourite pair of shoes. The best whisky is the one in your hand right now.''
---
Whisk(e)y facts
• To e or not to e: Irish and American whiskey does, Scottish whisky doesn't.
• The first written record of whiskey was in 1405, when the death of an Irish chieftain was attributed to ''taking a surfeit of aqua vitae''.
• The first evidence of whisky production in Scotland was nearly 90 years later, in 1494.
• The oldest whiskey distillery (1608) in the world is the Old Bushmills Distillery, in Ireland. Whisky can only be called Scotch whisky if it has been aged for at least three years in charred white oak casks in Scotland. The oldest surviving bottle of whisky - Glenavon Special Liqueur Whisky - was bottled between 1851 and 1858 and recently sold at auction in London for $29,052.
• The most expensive bottle of whisky was a six-litre Lalique decanter of Macallan ''M'' whisky, which sold at auction in Hong Kong for $769,073 this year.
---