Weather extremes continued to plague much of Otago and Southland in 2020 as many areas recorded some of the hottest, coldest, driest and wettest weather in their history books.
Niwa released its annual climate summary for 2020 yesterday, which showed the year was New Zealand's seventh-warmest since records began in 1909.
The average temperature for 2020 was 13.24degC — 0.63degC above the 1981-2010 annual average.
New Zealand's hottest year on record remains 2016, when the nationwide average temperature was 13.45degC.
"It has now been 47 months since New Zealand has had a month with below-average temperatures," the report said.
"The last such month was January 2017.
"Furthermore, six of the past eight years have been amongst New Zealand's hottest on record.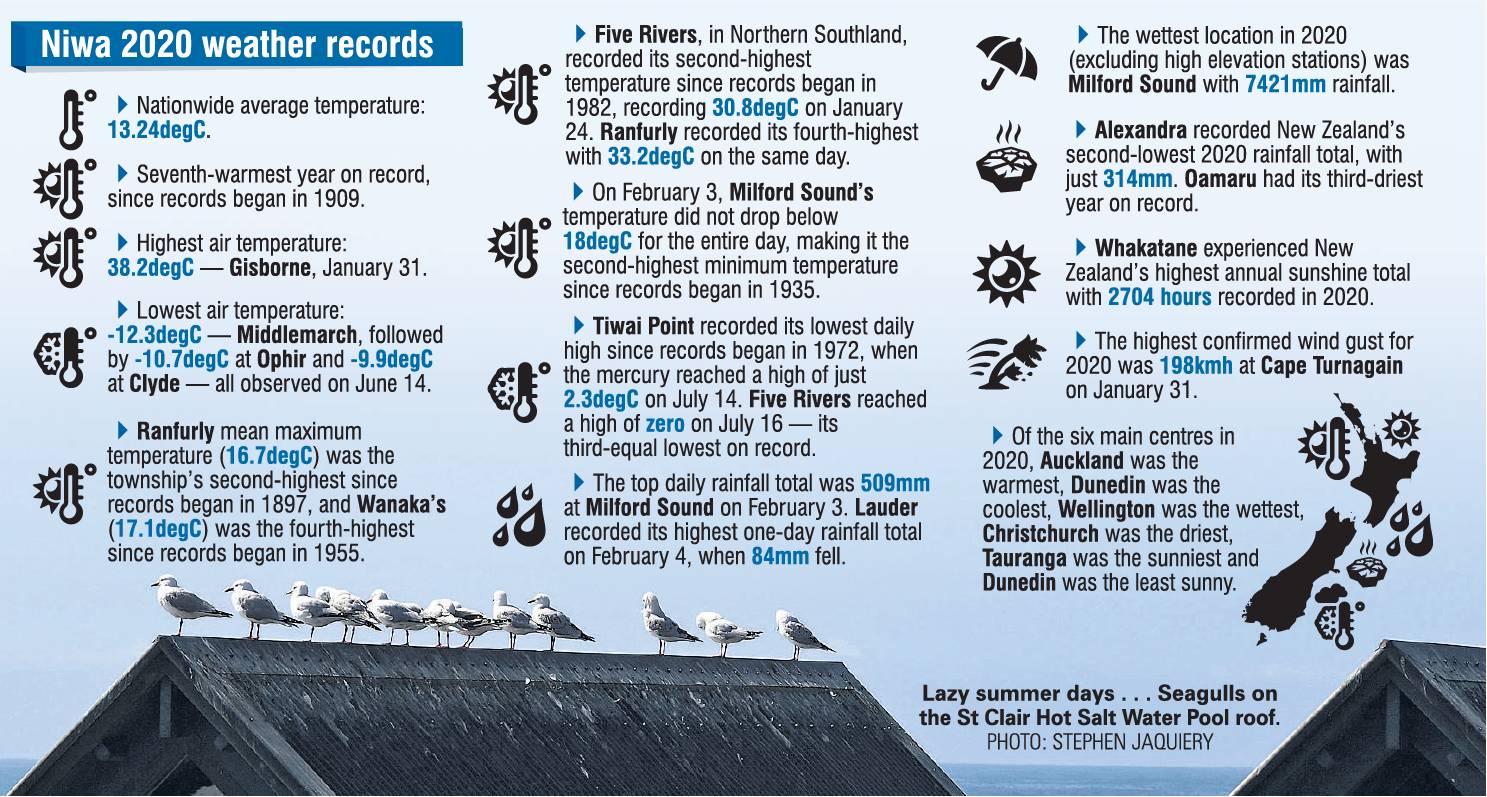 "This trend is consistent with the overall pattern of global warming."
In the southern region, Five Rivers, in Northern Southland, recorded its second-highest temperature since records began in 1982, when it recorded 30.8degC on January 24.
On the same day, Ranfurly recorded 33.2degC — its fourth-highest since records began in 1897.
Ranfurly also recorded its second-highest mean maximum temperature (16.7degC) in 2020, and Wanaka recorded its fourth-highest (17.1degC) since records began in 1955.
And on February 3, temperatures were so warm in Milford Sound that the mercury did not drop below 18degC for the entire day, making it the second-highest minimum temperature since records began in 1935.
At the opposite end of the scale, New Zealand's lowest air temperature of the year was -12.3degC, recorded at Middlemarch, followed by -10.7degC at Ophir and -9.9degC at Clyde — all observed on June 14.
Tiwai Point recorded its lowest daily high since records began in 1972, when the mercury reached a high of just 2.3degC on July 14.
Five Rivers reached a high of zero on July 16 — its third-equal lowest on record.
Several locations observed record or near-record low rainfall amounts.
Alexandra recorded New Zealand's second-lowest 2020 rainfall total with just 314mm, and Oamaru (364mm) had its third-driest year on record.
Yet, heavy rainfall on February 3 and 4 caused widespread flooding and damage across the southern region, and several townships set rainfall records.
The deluge affected Fiordland most, cutting off State Highway94 between Te Anau and Milford Sound, leaving more than 380 people stranded.
The highway was badly damaged and remained closed to private vehicles for the entire month.
A state of emergency was declared in Milford Sound and Southland, and residents in parts of Gore, Mataura and Wyndham were told to evacuate due to flooding on the Mataura River, which peaked at 2500 cumecs at Gore on February 5, and nearly 2700 cumecs at Mataura.
More than 100 dairy farms were severely affected by the flooding, and dozens of roads were closed in Southland and Otago, including SH1 between Dunedin and Invercargill, SH94, SH97, SH6 between Queenstown and Kingston, and portions of SH90.
As a result, New Zealand's top daily rainfall total was 509mm at Milford Sound on February 3.
Lauder recorded its highest one-day rainfall total on February 4, when 84mm fell, making it the settlement's wettest day since records began in 1924.
New monthly rainfall records for February were also set when 81mm fell in Queenstown, 84mm fell in Lauder, 74mm fell in Ophir, 82mm in Tapanui and 77mm in Mandeville.
New Zealand's wettest location in 2020 (excluding high elevation stations) was Milford Sound, with 7421mm.