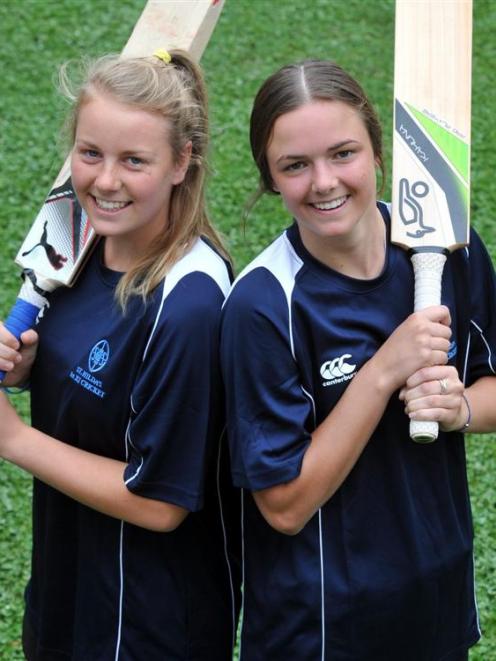 Caitlin Blakely and Polly Inglis like to lead from the front.
They will be endeavouring to do that when the St Hilda's Collegiate First XI takes on the country's best secondary schoolgirls teams in Palmerston North next month.
The pair, both 17, have fashioned a tidy record at the national tournament in the past three years, posting four partnerships of more than 50 in their 12 times batting together in the twenty20 games, including an impressive total of 87 last year against New Plymouth Girls' High School.
Blakely was brought up on a diet of cricket on her family farm at Waipiata, near Ranfurly, taking on father Geoff - who played nine first-class games and two limited-overs matches for Otago in the early 1980s - and older brother Sam, who made his debut for Otago last season.
"We have nets at our house, so [Sam] bowls to me sometimes,'' Blakely said.
Inglis began playing cricket when she was ''6 or 7'', playing for Kaikorai in the junior competition.
''I was the only girl in the team. It was fun - I didn't take too much stick,'' Inglis said.
The pair both played senior provincial cricket for the Otago Sparks last season, and Inglis said the fielding was the big difference she spotted during her time in the middle.
''The thing I noticed the most is with schoolgirls you can hit the ball to a fielder and get the run, but they're a bit sharper [at provincial level] - and you've got think a lot more.''
While the pair are a year apart in their schooling, they have begun to reach an understanding when starting the innings together.
''We've batted a lot together so it's second nature now,'' Caitlin said.
The pair's best partnership was 172 against a Canterbury selection earlier this year. They hope to continue their good form at secondary school level when they arrive in Palmerston North for the tournament, which is played from December 10 to 12.
''We don't get many regular games for school but the tournament at the end of the year is the one we aim for,'' Inglis said.
Their skill at ball sports extends to hockey, with both players making the Otago under-18 side this year. Inglis is the younger sister of Black Sticks striker Hugo Inglis but admits the code switch between seasons does not always make for good habits when it comes to cricket.
''It's not too bad, other than when we lose our technique when we come back from hockey. We get told off a lot for too much bottom hand.''
Blakely, who is just completing year 13, heads to Otago Polytechnic next year to study a bachelor in applied science degree in the sport department, while Inglis is finishing year 12.