Eight people have have been killed and a boy is critically injured following a head-on crash near Taupo.
Greenlea Rescue Helicopter pilot Pete Masters told the New Zealand Herald that eight had died in the crash involving an SUV and a van in Ohakuri Rd, in Atiamuri this morning.
Masters said he transported a 9-year-old boy from Tokoroa Hospital to Waikato Hospital in a critical condition.
Emergency services were called to the scene at 10.30am on State Highway 1 about 200m north of the intersection with Ohakuri Rd.
St John said five ambulances were sent to the scene. The police serious crash unit arrived about noon.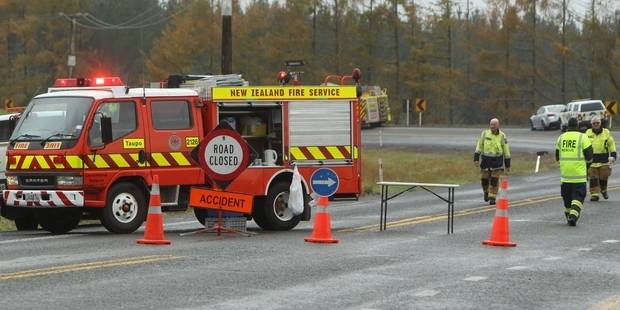 Police have not confirmed the number killed, saying it will take time to establish those details due to the "catastrophic nature of the crash".
The Disaster Victim Identification team has been called in to assist with that process.
Bay of Plenty Road policing officer Inspector Brent Crowe told media at the scene that one of the cars had crossed the centre line, resulting in the crash.
He confirmed that a child was taken to Waikato hospital in a serious to critical condition.
Crowe said to describe the scene as a complete tragedy would be an understatement.
"Two vehicles, travelling on SH1 have come together, a head-on collision in wet conditions."
He said the police's main priority for now was to look after those who had died for the sake of their families.
"There will be also, obviously, a thorough investigation into why the crash has happened and that could take a considerable period of time."
When asked further about the causes, Crowe said: "It appears for whatever reason one of the vehicles has crossed to the incorrect side of the road on a moderate left hand bend ... The road conditions were wet at the time."
He said it appeared only one person was in the southbound car and it was too early to say if seat belts were worn.
Police said the road would be closed for an extended period. Traffic would be diverted, with long delays.
Motorists were asked to plan their journey to avoid State Highway 1 between Taupo and Atiamuri, if possible.
HORROR TIME ON ROADS 
Sunday's crash brings the total killed on New Zealand roads this week to 11 and 41 for the past month. 
On Anzac Day, two people died following a crash near Cambridge. Separately, a woman who was critically injured in a serious crash near Waipawa in Hawke's Bay on Monday also died.
Sunday's crash scene is just a 10-minute drive from the stretch of Tirohanga Rd where five members of the same family died four weeks ago, when their vehicle came off the road in the early hours of the morning of April 1.
The death toll for the year now stands at 133.  At the same time last year there had been a total of 127 road deaths.
- NZ Herald and ODT Online