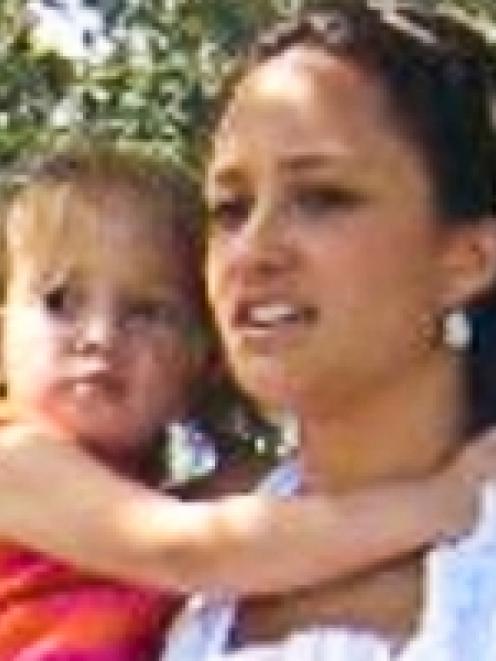 The truck driver involved in a crash that killed Whenuapai mother Lysette Brown was on his way to deliver chairs to his sister's wedding.
Hours later the wedding went ahead as planned, but instead of celebrating, the bride's family were consumed with sadness for a woman they knew for her local coffee-making business. It is understood Ms Brown, 27, was heading to set up her mobile coffee stand on Monday when she and a white Isuzu truck driven by West Auckland man Bunaid Zakeri collided at 7.22am.
Ms Brown's family were still reeling from her death yesterday and aunt Vicky Watkins said it was too soon for any of them to speak publicly about the tragedy.
"The grief is very raw ... even for those of us that saw Lysette only probably three to four times a year," she said. "She was very much a special and adored young woman. She made every effort she could in her busy life to keep in touch with others ... a beautiful, kind, decent, hardworking, awesome young mum."
Mrs Watkins had earlier posted on her Facebook page about her niece, describing her as a "shining star".
"Feeling pretty damn angry right now. How cruel life can really be," she wrote.
"A beautiful, decent, kind, loving young mother of four wee children taken away from them in the blink of an eye. In only a moment, four kiddies left without their mummy. Tragic."
Ms Brown's sister could not be reached yesterday, but last year published a moving post about the young mother on Facebook.
"A sister who beyond all odds, though she wouldn't see it that way, strives for perfection and always gives 110 per cent to her beautiful daughters."
Police are still investigating the cause of the crash. Ms Brown suffered severe injuries and was "heavily entrapped" in the mangled wreckage. She died at the scene.
The Isuzu was owned by Mr Zakeri's brother, Akram, who spoke to the Herald yesterday.
"My brother was moving some chairs. He was supposed to drop them in New Lynn for my sister's wedding," he said.
"The road was too wet ... he saw the lady coming towards him ... and then he didn't know what happened.
"He ran over the road to the lady. He tried to help her, she was unconscious. Then he ran to the neighbours, banged and banged on the door and said call an ambulance.
"He's really shocked, he is still shaking. I saw him this morning ... he is just really upset. He's saying he doesn't know what happened."
When Mr Zakeri's sister Shukraya and the rest of the family heard about the crash, they immediately tried to cancel the wedding.
"But it was too late. My brother did not go to the wedding," Akram Zakeri said. "Everyone was just really upset. We just feel so sorry for the lady. We don't care about anything else, we just care about that lady who died."
The Zakeri family want to meet Ms Brown's family and offer their support and condolences.
Akram Zakeri said many of his relatives knew Ms Brown for her mobile coffee business.
"We never expected this. It is a disaster."
What happened
*Bunaid Zakeri's white Isuzu truck and Lysette Brown's black Toyota collided at 7.22am on Monday on the Coatesville-Riverhead Highway.
*It was one of four deaths during the Easter holiday period.
- Anna Leask, NZ Herald