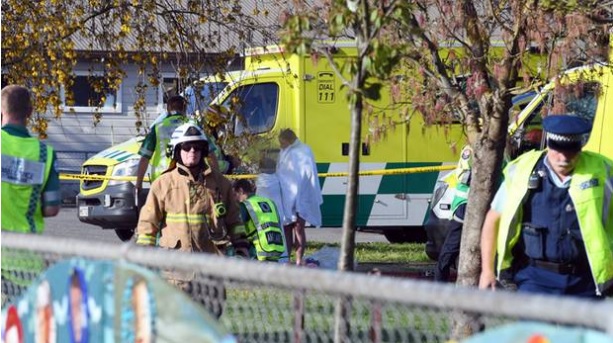 Police are seeking the pilot of a plane in their bid to trace the source of an outbreak that left 10 Wairarapa children in hospital and dozens more ill.
More than 50 children fell ill with vomiting and skin irritation at South End school in Carterton yesterday afternoon amid reports of a sulfur-like smell wafting over the playground.
Witnesses described seeing a grey and white or red and white plane, possible a Cessna, flying near the school between 1.30 and 2.30pm yesterday.
Speculation was rife in the community that the plane was the cause of the contamination.
Wairarapa Area Commander Inspector Scott Miller said while there was no evidence to indicate the plane was the source of the smell, police would like to speak to the pilot.
The CAA was also trying to locate the aircraft.
Emergency services have described the incident as "strange" and "weird" - and say although all the children have now recovered, they wanted to err on the side of caution until the cause could be found.
"But we don't have much to go on, which makes our jobs so much more difficult," said Fire and Emergency incident controller Brett Lockyer.
"Normally we know what we're dealing with, what we have to do and how to do it. But we're just coming to a dead end with most of the lines of inquiry we're going down at the moment."
Lockyer said scans of the children's clothing and searches at the school had been fruitless so far.
"We had a good scour around the land, around the playgrounds, trying to find remnants of granules or materials," he said. "We couldn't find anything last night so it's unlikely there will be anything there today."
Police had also been investigating at the site, and taking photos.
Health authorities said all of those taken to hospital were released last night and there had been no new cases.
During the incident, children and teachers were locked at the school until 8pm so they could be decontaminated leaving parents worried and the community stressed.
"It was scary not being allowed in to see my baby," said mum Samantha Cadwallader. "[I] hope the families that had ill children are all doing ok and the children feel better real soon."
Mum Megan Syskes said she was "so relieved" to have her son back safe and sound, and thanked emergency services, the mayor, and the school staff for keeping the children comfortable.
"Hug your babies extra hard tonight, I know I have," she said.
Reports of a plane dropping something over the school were unable to be substantiated, school board chair Brian Chin said.
"That was just speculation. The police are now investigating and we look forward to hearing what they find," he said.
Chin said all the parents had been given extra information about what to do if their children relapsed.
There would be a community meeting on Wednesday to debrief about the situation.
Anyone living close to the school with any further information is urged to get in touch with Masterton Police on (06) 370 0300.