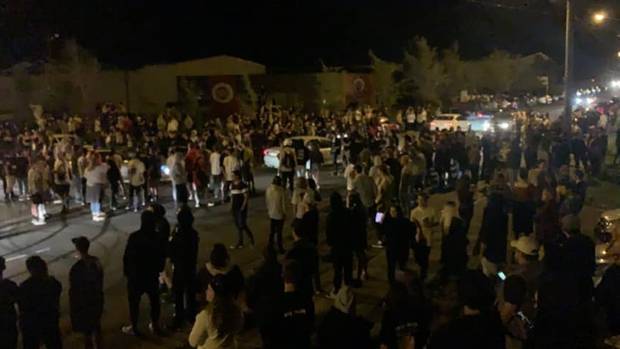 A group of Christchurch car racers, who earned 177 traffic violation notices in one weekend, are cooperating with police before another event starting tonight.
Organisers of the Aves Invasion 3 event, which more than 500 people plan to attend, are planning to steer clear of the central city after meeting with police.
It comes after people threw bottles at officers and made false calls made to emergency services to divert their attention during an Aves Invasion event in December.
As well as speaking with the organisers, Canterbury Metro Commander Superintendent Lane Todd confirmed that police have "an operation planned for the weekend in relation to boy racer activity".
Extra staff will be on the roads to stop dangerous driving behaviour like burnouts, driving in packs and speeding.
"Obviously road safety is paramount for us, particularly over the Easter period when typically nationwide we unfortunately see several people killed or injured," he said.
"As long as people are obeying the law... there will be no problem from the police point of view."
The main avenues around central Christchurch - including Bealey Avenue, Fitzgerald Avenue, Moorhouse Avenue and Deans Avenue - have typically been the focus of the gatherings.
However, Mr Todd said police had spoken with the organiser of the event with a view to ensuring that they respect Deans Avenue in particular, in relation to the mosque attack which took place there last month.
"They seem quite receptive to not having such a focus on the inner city," he said.
Christchurch City Councillor Deon Swiggs said the council was working with police. If needed, they were able to coordinate traffic light phasing around the city, and provide access to traffic cameras.
"The Aves Invasion has a big impact on the central city and residents that live on those avenues ... but I've got full confidence that the police have geared up to look at mitigating any potential problems," he said.
Mr Todd encouraged people to contact police if they had any concerns.
He said with several extra staff working over the weekend, police would be able to respond quickly.