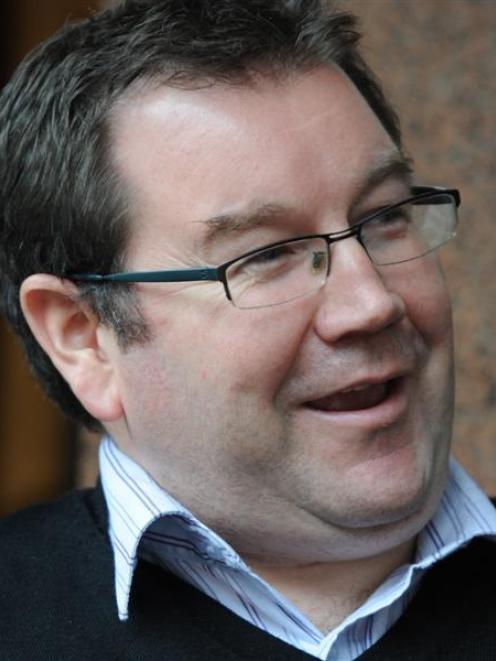 Home town favourite Grant Robertson received a boost yesterday in his quest to become Labour Party leader, with support coming from Dunedin MPs Clare Curran and David Clark.
The Labour leader road show is in Dunedin tomorrow in familiar territory for Mr Robertson - it will be held at the King's and Queen's Performing Arts Centre.
Mr Robertson is a former head boy of King's High School.
He is competing for the leadership against David Cunliffe and Shane Jones.
Ms Curran, the Dunedin South MP, and Dr Clark, the Dunedin North MP, yesterday put out a statement backing Mr Robertson.
''We need a leader whose sense of social justice is instinctive, someone with sound judgement who gets it right first time. Grant Robertson is that man,'' they said.
They told the Otago Daily Times Mr Robertson grew up in South Dunedin, one of the country's high-density and lowest income suburbs.
''He understands what it's like to struggle. He is a kind person and has a deep understanding what Labour can do for New Zealand.''
The ODT asked how the two Dunedin MPs felt about their future if Mr Robertson was not elected leader on September 15.
Dr Clark said the leadership race was close and, initially, he wanted people to hear the candidates and make up their own minds.
''Members started asking me my opinion about who would be best ... I think all can do the job but Grant is the one best placed to take on John Key and unify the party.''
Ms Curran said the caucus vote was a significant part of the overall vote. She wrote to all her members this week and explained her preference.
She found people wanted her to stand up for what she believed.
''No-one will die wondering what I think. We have to be leaders and representatives of our community and electorate.
''People want to know we have strong opinions and I expect those opinions will be respected,'' Ms Curran said.
University of Otago political scientist Dr Bryce Edwards said it was no surprise Ms Curran and Dr Clark supported Mr Robertson but was surprised at the timing of the announcement - the day before the Labour leader meeting in Dunedin.
''It's an interesting thing to do before the event. There is some risk of push back from the rank and file if it is seen as an attempt to influence the vote at the meeting. But there is no rule against it.''
Asked how the MPs would fare if Mr Cunliffe won, Dr Edwards said there seemed an overwhelming desire within the party for unity and there was talk of the winner bringing his opponents into the fold.
Dr Clark had yet to reach his peak in Parliament and was likely to be promoted no matter who was the leader.
But Ms Curran's career ''could be bleak'' under Mr Cunliffe's leadership, Dr Edwards said.
While both Messrs Robertson and Cunliffe can claim connections to Dunedin, having both studied and graduated from the University of Otago, Mr Jones has less obvious ties.
He said in an interview his former chairmanship of Sealord gave him the opportunity to travel around the South Island and he was looking forward to give his views on what he could bring to the leadership.
''This gum-digger is coming to meet the gold-miners. I love Dunedin. I have a few rellies down there.''
One of Mr Jones' pledges to Otago was if he became a Labour prime minister, he would ensure government services would be relocated to Dunedin, even before his own province of Northland.
''If Treasury doesn't like it, well, they can go to Blackball,'' he said.
Former Labour Party candidate Tat Loo is the convener of a regional economic community event at which Mr Cunliffe will speak tomorrow before the leadership meeting.
Mr Loo said he had stepped back from being an active party member this year but was hosting the event after being asked to do so as a personal favour.
Caucus gets 40% of the vote, the party membership 40% and trade unions 20%.
The Engineering, Printing and Manufacturing Union is the largest Labour-affiliated union and about 200 of its conference delegates will vote on the leadership.
The other unions voting (in order of size) are: the Service and Food Workers Union, the Meat Workers Union, the Dairy Workers Union, the Rail and Maritime Transport Union and the Maritime Union.