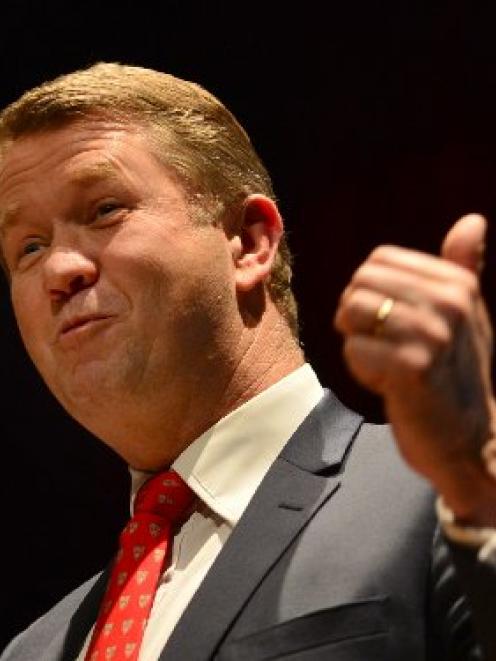 Labour Party leader David Cunliffe - who said this week he had never met Donghua Liu or advocated on his behalf - wrote a letter to immigration officials on behalf of the controversial businessman who was applying for residency in New Zealand.
The 2003 letter was written in his capacity as the MP for New Lynn after he was "approached my constituent Donghua Lui [sic] who is concerned at the time it is taking to process his Investment Category application".
Mr Cunliffe this week denied any involvement with Liu's residency bid after the Herald revealed the property developer paid $15,000 at a Labour Party fundraiser for a book signed by Helen Clark in 2007.
The letter, released to the Herald today under the Official Information Act, dated April 11, 2003 said Liu's application for residency was accepted for processing by the Immigration Service on August 13, 2002.
Mr Cunliffe said Mr Liu wished to set up a joint venture business with his Tianlong Property Development Company - which owns his stalled property development in Newmarket - to export large quantities of agricultural and horticultural products to China.
"It is hoped that products from the company will be available to the market in July 2003," wrote Mr Cunliffe.
"I am aware of the difficulties facing the Business Migration Branch of New Zealand Immigration Services in coping with the overwhelming numbers of applicants that have applied for consideration under these categories and the time taken to verify documents.
"However, it would be very helpful to Mr Liu to be advised of an estimated period of time in which he could expect a decision on his case."
Yesterday, Mr Cunliffe told reporters questioning him about Liu's financial support for Labour he did not recall meeting him and denied advocating on Liu's behalf in his residency application.
Liu was granted residency under the Investor Category in 2005 by Labour's associate Immigration Minister Damien O'Connor against official advice.
The Herald this week revealed Liu's $15,000 secret donation to Labour and today published a 2007 photograph of Labour MP Rick Barker, the Internal Affairs Minister at the time, presenting a bottle of wine to Liu's partner at another Labour Party fundraiser.
Mr Barker also visited Liu in his hometown of Chongqing for a lavish dinner that year.
The Labour Party has previously accused the National government of making "cash for access" deals with Liu, who received citizenship in 2010 after lobbying from National minister Maurice Williamson and whose hotel was later opened by Prime Minister John Key.
He gave $22,000 to the National Party in 2012 through one of his companies, and had meetings with Immigration Minister Michael Woodhouse in an attempt to secure relaxed immigration rules for rich migrants.
Mr Williamson quit his ministerial portfolios last month after the Herald revealed he contacted police over a prosecution against Liu.
---
David Cunliffe to reporters yesterday
Q: Do you recall ever meeting Liu?
A: I don't recall ever meeting him, no.
Q: Did you have anything to do with the granting of his permanent residency?
A: No, I did not.
Q: Did you advocate on his behalf at all?
A: Nope.
Q:Were you aware of any advice against granting him permanent residency?
A: Not to my recollection.
---