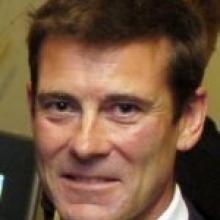 Dunedin health manager Michael Woodhouse looks assured to enter Parliament as a National Party list MP judging from the party's full list released yesterday.
Mr Woodhouse, chief executive of Mercy Hospital, is ranked 49th on the list, meaning National has to poll, on paper, anywhere above 41% for him to become the list MP based in Dunedin.
Several candidates ranked below him are likely to win electorate seats so to be safe, National would have to poll 43% for him to become an MP.
If he does enter Parliament, he will be the replacement for Katherine Rich, who has been the party's list MP from Dunedin for the past nine years.
Mr Woodhouse is standing in Dunedin North, a seat held by long-time Labour MP Pete Hodgson.
National Party Dunedin South candidate Conway Powell is ranked at 59 on the list, a ranking that disappointed him.
"I am surprised I am so low on the list, but that's life - that's politics," he said when contacted.
"I thought I had done quite a bit of work for the party during the campaign last time and behind the scenes on policy. I expected a higher ranking."
Dr Powell said he would continue to work hard for the party.
One of the two opinion polls out for the weekend would have Dr Powell in Parliament and National Party activists in Dunedin told the Otago Daily Times he was in an electable position.
If National secures 48% or 49% of the vote, Dr Powell would be elected, depending what happens to New Zealand First's support.
Party president Judy Kirk said National could expect to win 60 or 61 seats on its current support levels.
"But we're very aware that the polls move around and historically once the campaign proper starts, the major parties often drop and the smaller parties lift.
"So we have to be mindful of that and work very hard to the final hour. It's going to be a fight."
Mr Woodhouse said he was delighted with his placing. The first-time candidate said he was humbled by the confidence the party had in his ability.
"I am determined to do a good job for the party and the people of the city."
Mrs Rich said one of the difficulties faced by the party's Southern regional organisation was the "large number" of MPs it had relative to the size of the population.
Deputy leader Bill English (Clutha-Southland), Eric Roy (Invercargill), Jo Goodhew (Timaru) and Jacqui Dean (Otago) were electorate MPs.
To have Mr Woodhouse ranked 49th when there was so much competition for places around the late 30s and 40s was a tribute to local party officials.
Asked why it was important for Dunedin to have a National MP based here, Mrs Rich said the city covered a large geographical area and was the hub of the region.
"We have a lot of major issues affecting the city, such as tertiary and health. We have to have someone on the ground to deal with them. Even though this is a Labour stronghold, a lot of people give National their party vote and they deserve their own person to reflect their views in Wellington."
Seeing the list without her name included was another milestone, but Mrs Rich said she had no regrets about her decision to retire from politics at the end of the current term.