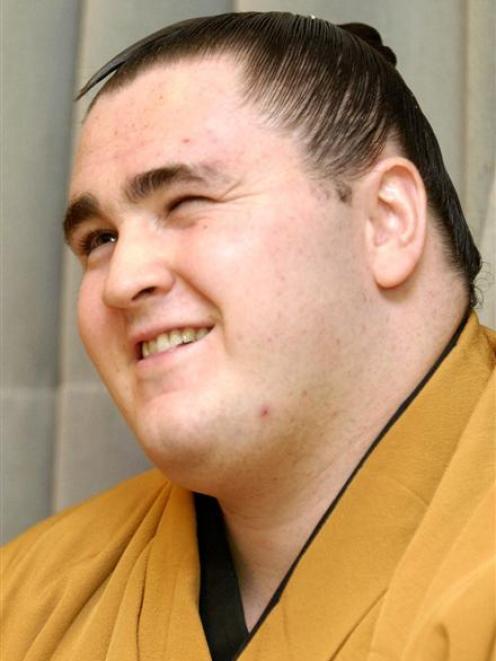 One of Japan's highest ranking foreign sumo wrestlers has been arrested on suspicion of marijuana possession, Japanese authorities said in the ancient sport's first major drug scandal.
Soslan Aleksandrovich Gagloev (20) of Russia - better known by his sumo name Wakanoho - was taken into custody after officers found a marijuana cigarette in a wallet he had lost in Tokyo in June, a spokeswoman for the Tokyo Metropolitan Police Department said on Monday.
Someone found the wallet and handed it to police, who traced it to the 162kg wrestler because of an identification card inside, said the official, who declined to give her name citing agency policy.
Wakanoho told police he had received the marijuana from a foreigner in Roppongi - a Tokyo district famous for its bars, clubs and raucous nightlife.
Toshimitsu Kitanoumi, chairman of the Japan Sumo Association, expressed his disappointment following the arrest, pledging on national broadcaster NHK to investigate the situation and "consider serious measures."

Doreen Simmons, a longtime sumo commentator and columnist in Tokyo, said Wakanoho's days as a professional athlete in Japan could be numbered.
"If the charge sticks, then he will be thrown out of the sumo association," Simmons said.
Under Japan's Cannabis Control Law, possession of marijuana is punishable by up to five years in prison with forced labor. Foreigners convicted of drugs crimes can also be deported from Japan and slapped with a lifetime re-entry ban.
It was unclear how prosecutors planned to proceed. Wakanoho turned 20 on July 8 and was legally a minor at the time of the alleged violation.
After his professional debut in March 2005, Wakanoho powered his way up the ranks, reaching the top sumo division in a little over two and a half years. He is now one of 15 foreign wrestlers in the highest "makuuchi" level, along with Mongolian grand champions Asashoryu and Hakuho.
But his fiery temper has often overshadowed his talent. In May, the Japan Sumo Association reprimanded the Russian grappler for smashing a shelf in the wrestlers' communal bathroom following a defeat.
Simmons suggested Wakanoho's youth and the limited time he had to adjust to the expectations of Japan's traditional sumo world may have contributed to his recent troubles.
"One of the problems as I see it is that he went up too quickly," she said.

"Others came up more slowly."

Japanese fans have made it clear that they have little patience with bad-boy wrestlers.
Sumo traditionalists were appalled last year by the antics of Asashoryu, who was suspended after claiming an injury and skipping out on summer tour events, only to be shown later on television playing football in his native Mongolia. The stress of the resulting firestorm proved too much for him and he left Japan for three months to recuperate at home.