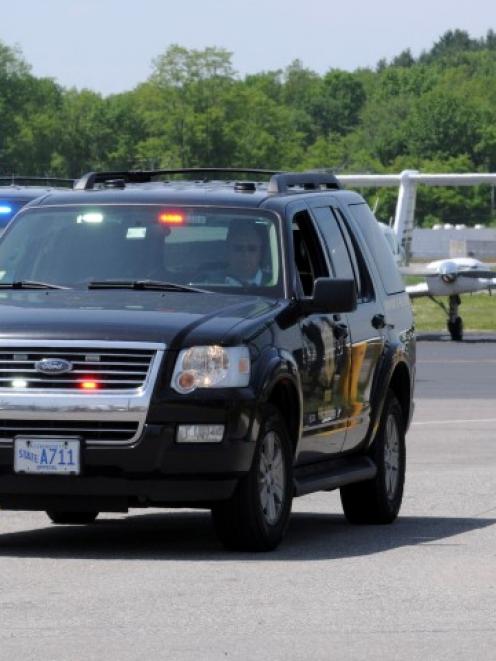 Lewis Katz, co-owner of The Philadelphia Inquirer, The Daily News and Philly.com, was one of seven people killed when a private jet crashed at a Massachusetts airfield.
The seven, including three crew members, died when the aircraft crashed at Hanscom Field in Bedford and erupted into a fireball, authorities say.
The Gulfstream IV crashed about 9:40pm on Saturday (local time) as it was departing for Atlantic City International Airport in New Jersey, said Matthew Brelis, a spokesman for the Massachusetts Port Authority, which operates the airfield.
"There were no survivors," Brelis said.
Nearby residents recounted seeing a fireball and feeling the blast of the explosion shake their homes.
Jeff Patterson told The Boston Globe he saw a fireball about 60 feet in the air and suspected the worst for those aboard the plane.
"I heard a big boom, and I thought at the time that someone was trying to break into my house because it shook it," said Patterson's son, 14-year-old Jared Patterson. "I thought someone was like banging on the door trying to get in."
The airfield, which serves the public, was closed after the crash.
Katz attended an education-related event in Concord, Mass., Saturday afternoon at the home of historian Doris Kearns Goodwin and her husband, Richard Goodwin.
Longport, N.J., borough commissioner Daniel Lawler confirmed that Anne Leeds, 74, wife of commissioner James P. Leeds Sr., had been traveling with Katz and others, and perished in the crash.
"We are devastated; it is a major shock," Lawler said.
Longport Mayor Nicholas Russo said Leeds, a retired teacher in Pennsylvania, was a neighbor of Katz's in town.
Katz invited Leeds on the trip at the last minute Saturday, Russo said.
Also on board was Marcella Dalsey, executive director of the Drew A. Katz Foundation - named after Katz's son - and president of KATZ Academy Charter School, which she cofounded with Lewis Katz in 2012. Dalsey is a South Jersey native who started her career in real estate investment. In 1995, she opened Gracie's Ice Cream Parlor in Haddonfield.
The names of the other victims were not released.
Nancy Phillips, Katz's longtime companion and Inquirer city editor, was not on the plane.
Neither was a former Pennsylvania Gov. Ed Rendell, who said he'd been invited by Katz to make the trip but declined because of a speaking engagement he had at the Little Shul, a South Philadelphia synagogue. Rendell said Katz's death was "mind-blowing."
On Tuesday, Katz and H.F. "Gerry" Lenfest bought out their partners for $88 million, gaining control of the media company that owns the Inquirer.
"We all deeply mourn the loss of my true friend and fellow investor in ownership of The Philadelphia Inquirer, The Daily News and Philly.com," Lenfest said. "It is a severe loss, but I am pleased to announce that Drew Katz, Lewis's son, will replace his father on the board of our new company."
Katz made his fortune investing in the Kinney Parking empire and the Yankees Entertainment and Sports (YES) Network in New York. He once owned the NBA's New Jersey Nets and the NHL's New Jersey Devils and is a major donor to Temple University, his alma mater.
"Lewis Katz was an exceptional man, whose presence enriched the lives of everyone he came in contact with," said Bill Marimow, the Inquirer's editor.
"He never forgot his friends or his roots, giving back generously to the city of Camden, Temple University, Dickinson School of Law, the Boys and Girls Clubs of America, and countless other organizations.
"He loved his family and his friends and they loved him back in return. We've lost a great friend."
Katz grew up in the Parkside section of Camden. His father died of a heart attack soon after Katz was born, and his mother raised him on her earnings as a secretary at RCA.