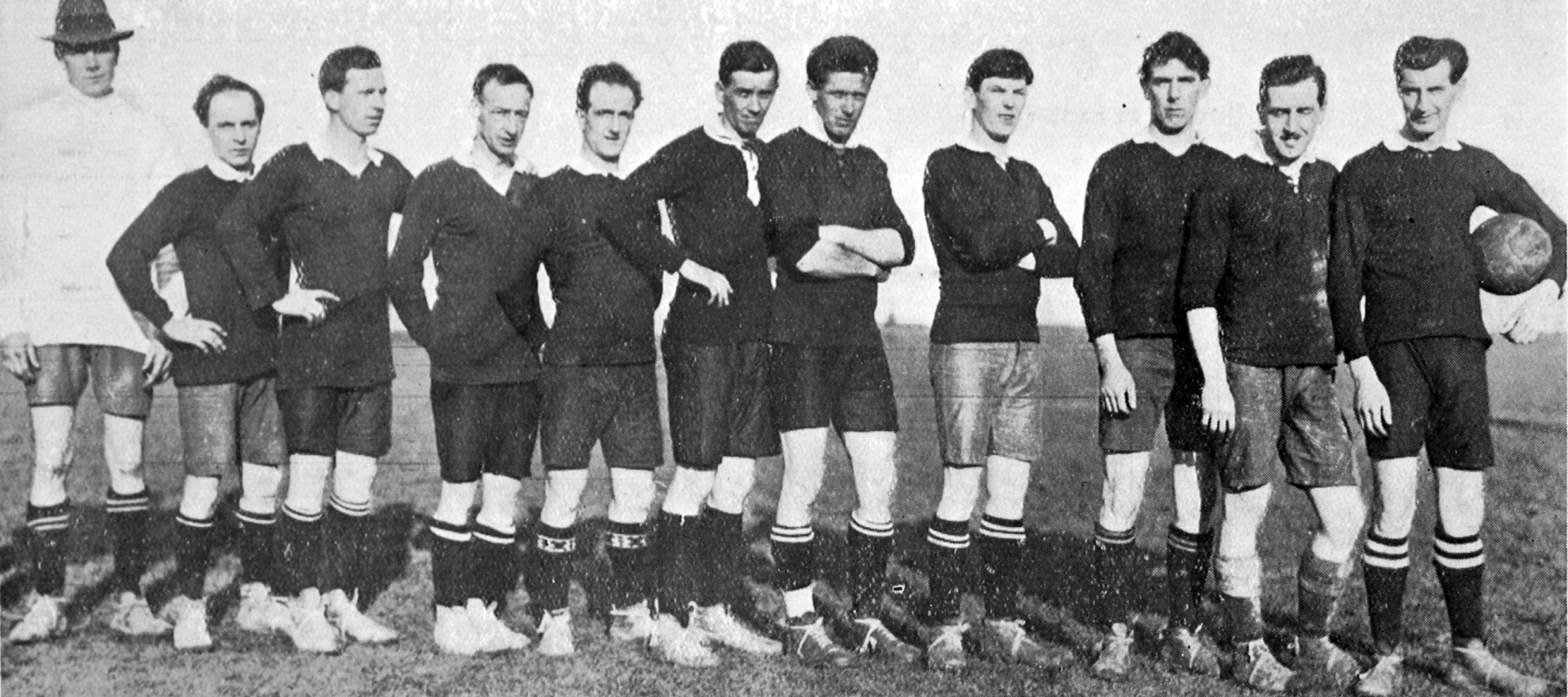 Kaitangata v YMCA: These teams met on the Oval. The visitors pressed from the kick-off and Robinson missed an open goal. An attack by YMCA was short-lived, McAuley relieving with a strong kick. Offside play by the Kaitangata forwards brought relief to YMCA, whose goalkeeper, however, was soon called on to save shots from both Rarity and Dunn. After saving a good shot from close in, Swinton (YMCA goalkeeper) was beaten with a hard one from Rarity, and shortly after Bennie struck the upright with a shot, but Robinson got possession from the rebound and found the net. Halftime was called with the score Kaitangata 2, YMCA nil. On resuming YMCA came away with a good rush, only to be stopped by Richardson who sent the ball to the other end, and from a melee Swinton (YMCA goalie) was beaten. Shortly after this Dunn (centre forward) added another goal. Sneddon (outside left for Kaitangata) was playing a good game, and along with Rarity was the best wing on the field. Kennedy was a tower of strength on defence for YMCA, but the half-back line was weak, and the Kaitangata forwards took every
advantage of the position. Dunn scored a further goal, and a rally by YMCA, in which Robertson, Shadwell, and McDougall were prominent, failed to penetrate the defence of the visitors. On the whole, play was very weak. Thompson (Kaitangata's goalkeeper) was not called upon once to handle the ball during the second spell. Sneddon secured Kaitangata's sixth goal. Swinton, Kennedy, Berry and Stubbs were the best of the YMCA. Mr Crawford had charge of the game. Result: Kaitangata 6 goals, YMCA nil.
How would we do without it?
The telephone is so much a factor in the everyday life of the community today that few pause to look back to a period when it was not so. Yet that period is by no means remote. The man who is middle-aged this year was an infant when the invention was first patented which was to introduce the new era of communication. At an advanced age the inventor himself has passed away, and a general tribute to his memory in the United States and Canada took the form of the suspension of the telephone service for one minute at the hour of his funeral. The name of Alexander Graham Bell is destined to live so long as the telephone is remembered. A native of Edinburgh, he made America the home of his adoption, and there his scientific training and devotion to the subject of speech and speech-mechanism led him along lines of research the outcome of which was the evolution of the talking instrument which we all use now so casually and deem indispensable.
Weather talked down
It was remarked a few days ago by a visitor from Hawkes Bay who had spent three weeks of delightful weather in Dunedin that the people of Otago have only themselves to blame for the existence of an impression in the North that the southern climate is so severe during the winter months as to be something to be avoided. It was to a large extent a sound reflection upon an unfortunate southern habit of depreciating the climate of this part of New Zealand. During the present winter, when the weather has been generally fine and bracing in the south, the conditions in the north have been frequently unfavourable and disagreeable on account of the prevalence both of rain and of high winds. — ODT, 7.8.1922