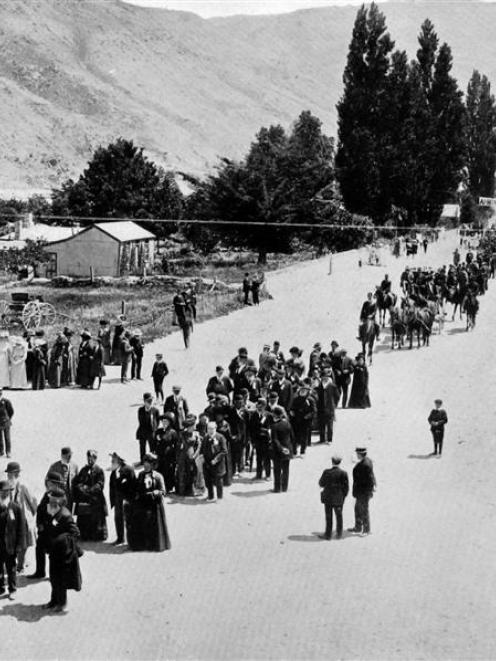 NOVEMBER 19. The town of Clyde was early astir this morning, and the dusty streets were liberally hosed with water in preparation for the procession and the other activities of the day.
For some time all interest centred round the traps, coaches, and motors that were arriving from Roxburgh and Upper Clutha district, bearing their loads of Dunstan pioneers and friends. Genuine old timers were easily distinguished by their bright blue badges, and proudest among the greybeards were those who to badges could add medals well won in their country's service. Badges were in themselves sufficient introduction, and a cordial interchange of greetings and reminiscences took place, in many instances between those who had never met before.
Everything was in readiness shortly after 11 o'clock, and the long procession, headed by the Marshal, Captain James MacKenzie (of Lowburn) moved off towards the Clyde sports ground. Immediately behind the marshal came the Alexandra Brass Band, under Conductor W. Bringans, and the Alexandra Pipe Band, supplying the necessary music. The bands were followed by tableaux, representing an old-time prospecting party setting out on the march, and though some of the details, such as a hard hat and Mosgiel rugs were unnecessarily modern, the effect as a whole was striking and realistic. Then came what was the heart of the whole procession - the pioneer miners themselves.
By right of seniority in the field Mr James Robertson and the Gabriels' Gully pioneers, 32 strong, led the way, followed by close on 100 Dunstan men and a few of their women folk. Many of these stalwarts strode along as though they would still think nothing of humping a heavy miner's kit over rugged hills, but it was pathetic to see that here and there the pace of the bandsmen was too fast for halting steps, and some had to step out from the ranks and rest.The miners were followed by a representation of the gold escort. Cobb's coach, with the police on board, and four mounted outriders, and the postboy on horseback with his scarlet coat and bugle recalled a familiar figure in the days of the Dunstan rush.
The concluding part of the procession, in which some three or four hundred took part, included members of Parliament, distinguished visitors, country councillors, members of local Friendly Societies in regalia, School Cadets, and children waving little Union Jacks. Numerous photographs were taken along the route, and the representative of the Tourist Department took two kinematograph records.
• The formation of a motor reserve on the lines adopted by the military authorities at Home is under the consideration of the New Zealand Defence Department (says our Wellington correspondent). It is proposed to ask motorists in the principal cities and towns of the dominion to form corps whose services will be available in connection with the defence movement whenever called upon, the department on its part agreeing to pay certain expenses during the time the machines and their owners are so engaged. Colonel Heard, Acting Commandant, will leave Wellington for Christchurch at the end of the present week to discuss the scheme with the Automobile Association in that city. - ODT 20.11.1912
---
• COPIES OF PICTURE AVAILABLE FROM ODT FRONT OFFICE, LOWER STUART ST, OR WWW.OTAGOIMAGES.CO.NZ