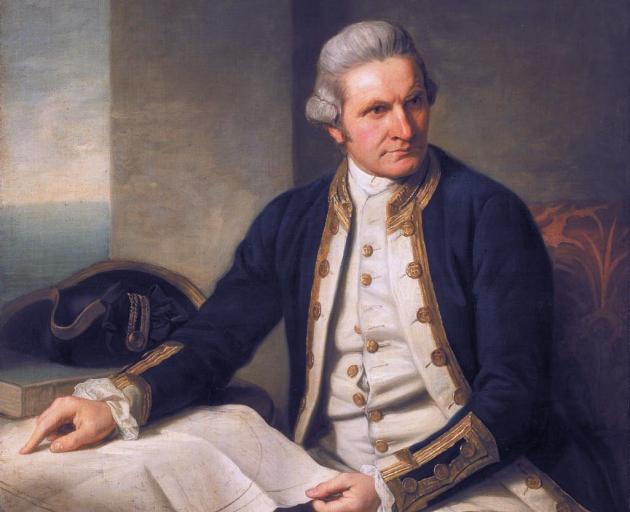 In a rebuttal to a previous article [18.7.19], Emeritus Prof Olssen accuses me of making ''specious'' claims about the legacy and character of Captain James Cook.
I will not dispute Cook's role in NZ history; nor will I disregard the fact that he was an extraordinary man.
An expert mapmaker and navigator, Cook left behind an impressive legacy of scientific and geographical knowledge. He helped pioneer new methods for warding off scurvy, was made a Fellow of the Royal Society, and correctly postulated a link among all the Pacific peoples, despite their being separated by great ocean stretches. The list goes on.
As a Rhodes Scholar, I am often confronted with the idea that the deplorable actions of men such as Cecil Rhodes may be excused because such men were merely ''of their time''.
I believe such an attitude is dangerous. Cook may have been a likeable man and an impressive leader, but, as Glyndwr Williams and many other historians point out, he nevertheless laid the foundation of a colonial regime that devastated peoples and cultures across the Pacific.
Cook was a man of contradictions; of that much I am aware. Yet one cannot focus on his forgiveness of Kahura after the gruesome deaths of 11 of his own men without ignoring, for example, Cook's wholesale destruction of houses and canoes at Mo'orea in an effort to recover a single stolen small goat.
Nowhere in my previous article [18.7.19] did I contend that Cook introduced diseases in the same way that British colonists in 18th century America thrust smallpox-infected blankets upon the Native Americans. I know from reading Cook's diaries that he was most anxious about protecting the natives of Tahiti in 1769 from venereal diseases.
But I would disagree with Captain Cook's surgeon, William Anderson, who wrote about the introduction of syphilis to Tonga, ''The man who has rob'd, murder'd and been guilty of all the Catalogue of human crimes is innocent when compar'd to the one who did such a thing knowingly.''
Fundamentally, I do not see the point in exculpating Cook for the diseases introduced to Hawaii, Tahiti and other Pacific nations. Such efforts smack of a desire on the part of the colonisers to evade responsibility for what has happened, and distract from the ramifications of such disasters.
The sex industry in the Pacific was undeniably a complicated affair; that I will not dispute.
I would, however, like to draw Prof Olssen's attention to the diaries of Georg Foster, who on Cook's second voyage described some of the females at O-Aheatua who ''yielded without difficulty to the ardent sollicitations of our sailors'' as being ''not to be above 9 or 10 years old, and had not the least marks of puberty.''
Forster, in an attitude echoed by countless other paedophilic philanderers in the Pacific, argues that ''So early an acquaintance with the world seems to argue an uncommon degree of voluptuousness, and cannot fail of affecting the nation in general.''
Years later, another European leech, namely Paul Gauguin, would insist that although one of his Tahitian sexual partners was only 13 years old, ''she was the equivalent of 18 or 20 in Europe.'' Cultural and historical ''complexities'', as Olssen accuses me of ignoring, can only excuse so much.
Does the fact that Cook was supposedly a humane man negate the fact that his voyages brought great suffering to many? Can we ignore the numerous deaths of Pacific peoples as a consequence of Cook's voyages, just because they weren't fully intentional?
We can quibble incessantly about the ''good intentions'' of various colonialists but the results are the same: death, destruction and disease wherever the British landed.
Ultimately, feeling upset for inadvertently killing someone does not absolve one of blame. Cook may have ''wrestled with the vast historical contradictions created by the encounter between Europeans and the Pacific Islanders'' but at the end of the day he still set forth on his fateful voyages. The painful effects of Cook's arrival, and those of his companions, are still felt today.
For too long we have privileged a gentle, whitewashed version of New Zealand history over the real and disturbing history of our complicated nation. Focusing on the detrimental and lingering effects of colonisation will no doubt impede upon ''Pakeha identities articulated around ideals of decency and fairness,'' and the ''collective memory of gentle colonization and harmonious race relations'' (King, 1988; Newton, 2009, quoted in Cooper, 2011).
I may be accused of proposing ''revisionist history'', yet I would remind the reader that uncomfortable truths are always met with a veritable snowstorm of conservative attacks. Consider for instance the response to Prof Bellich's The New Zealand Wars, documented by Diamond, 1998; Perrott, 2002; and Revington, 1998.
Rather than desperately trying to absolve Cook and his ilk of any wrongdoing, I believe we should face up to the realities of colonisation, including the historical trauma experienced by tangata whenua, and the structural discrimination of our society evident in the disproportionate negative representation of Maori in issues of education, health, housing, employment, social and justice, among others.
As I argued in my previous column, to have a children's book (or indeed, a history curriculum) completely disregard the disastrous consequences of colonisation in the Pacific is disgusting and disingenuous. New Zealand history needs to be taught in its entirety, and we need to let go of our idolisation of British naval ''heroes'' in order to focus on righting historical wrongs.
After all, as Ernest Renan once wrote, ''Forgetting, I would even say historical error, is an essential factor in the creation of a nation and it is for this reason that the progress of historical studies often poses a threat to nationality. Historical inquiry, in effect, throws light on the violent acts that have taken place at the origin of every political formation, even those that have been the most benevolent in their consequences.''
-Jean Balchin, a former English student at the University of Otago, is studying at Oxford University after being awarded a Rhodes Scholarship.